Stylish Jewelry Professional, Prernaa, Shares Industry Insights
"Being stylish is not about following a celebrity or fashionista. It's about creating your own style quotient. It's about being elegant and tasteful, evolving yourself. Just let loose and unleash the stylish you!" – Prernaa Makhariaa, founder of StylePrer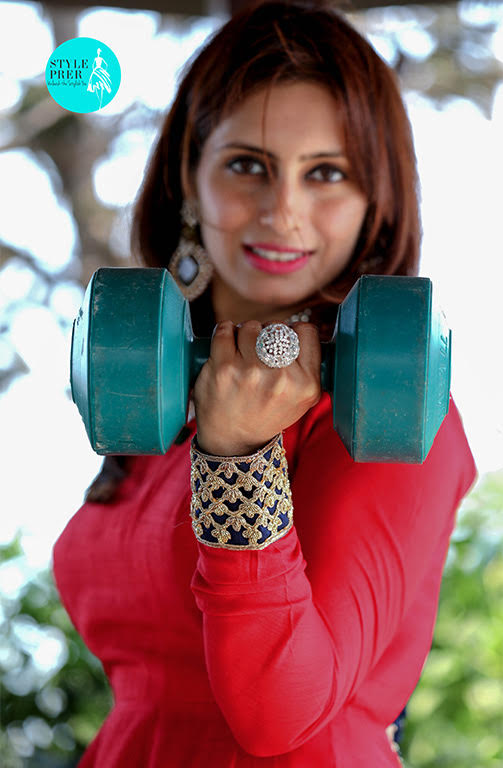 Follow her on instagram here
Working in the diamond industry provides us the opportunity to scour the web to keep up with the global jewelry trends and hear provoking insights from industry thought leaders.
During an online research session, we came across an intriguing jewelry blog out of India, called StylePrer founded by Prernaa Makhariaa. Makhariaa was so kind to agree to an interview with us so we could pick her brain to learn more about her professional insights into the world of jewelry. Here is what we learned:
Q. What is the inspiration behind some of the jewelry you designed? What are some of your favorite pieces and why?
A. "I started my career in jewelry way back in 2002 when I pursued formal training in jewelry manufacturing, jewelry designing, gemology, and diamond grading. At that time, I also began my quest to become an accredited jewelry professional (AJP) from the Gemology Institute of America (GIA), the Gemological Institute of India (GII), and Shreemati Nathibai Damodar Thackersey (SNDT) in India.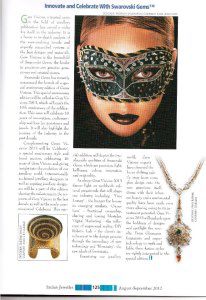 In India, jewelry plays an integral part in our lifestyle. It's considered more of a necessity than luxury no matter what size of jewelry a woman wears. I have enjoyed designing and manufacturing (and have designed and manufactured) almost every possible type of jewelry for clients from art nouveau, art deco, to Edwardian style. I have even redesigned some of the heritage jewelry that was given to my clients by their ancestors.
Personally, I like simple, clean motifs – especially deco and antique jewelry. Somehow heritage, estate, and period jewelry have always drawn my attention and I would love wearing jewelry that was centuries old.
Thinking about my wacky side, the mask "Nafisa" that I designed and created for Swarovski GemVisions' 10th-anniversary issue, is still one of my favorites. It was inspired from a 'hijab' a veil worn by women in the middle east, along with inspirations from the Venetian mask, armors of women from the medieval era and punk culture."
Q. If you had to mention one celebrity that's always wearing the right jewelry and inspires you in terms of style, who would it be and why? This can be a designer too.
A. "In all honesty, I may like what the celebrities wear but I look up to the jewelry and style of Maharani Gayatri Devi in India. Jewels worn by Nizam, Maharaja of Patiala inspire me. In my opinion, one should look up to the Maharajas and Maharanis of India and admire the elegance with which they carried their jewelry.
I must add that Queen Elizabeth's jewelry and tiaras are stunning."
Q. What do you think about memorial diamonds and cremation diamonds?
A. "Memorial diamonds and cremation diamonds are a beautiful way to capture and treasure the fondest memories of your loved ones. It's big in the west and in my opinion, it can become a rage in India too. However, there is a niche market for jewelry made with dried umbilical cords in India."
Q. What can readers expect to find on the StylePrer blog?
A. "StylePrer is an eclectic mix of jewelry from the west and east. In addition, it brings out the various elements of handcrafted jewelry in India. India has 29 states and almost every state has its own specialty in jewelry. StylePrer is always scouting to feature and write on innovative designs and creations, especially budding jewelry designers.
What you can expect is not only about jewelry but how jewelry can be styled."