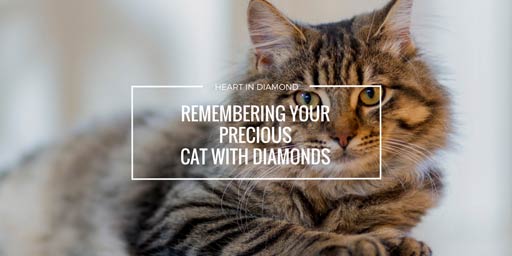 5 Beautiful Examples of Diamonds Made With Cats' Ashes Demonstrate How Heart In Diamond Can Forever Memorialize Beloved Feline Family Members
Heart In Diamond gives cat owners the opportunity to memorialize the lives of their beloved felines by turning their ashes into beautiful diamonds.
Dogs often get credit for being faithful friends and loyal, beloved members of the family. According to ASPCA, up to 96 million cats in the United States are also bringing joy to the humans who own them. The flipside of the story is that approximately 7.6 million companion animals enter animal shelters nationwide every year. If you want to support ASPCA, please do so here.
They might be more aloof and more independent than their doggy counterparts, but a third of American households find them to be the perfect companion and confidante.
That's why there are so many celebrity cats.
Because cats are such a precious part of so many people's lives, they deserve to be commemorated in a meaningful way once they pass away. Consider the Amsterdam cat museum that historian Tom Holland highlights on Twitter: That museum was created as a memorial to a single beloved cat.
OF COURSE #Amsterdam has an entire museum devoted to cats… pic.twitter.com/mOyFDUbaqh

— Tom Holland (@holland_tom) December 22, 2016
It is the desire to honor the memory of their feline companions that has many cat owners turning their cat's cremains into beautiful memorial diamonds. Here at Heart In Diamond, we offer the shortest, lowest-cost, but most reliable way to grow your cat's remains into gorgeous gems that can remind you forever of your beloved friend.
Heart In Diamond can make diamonds in five different colors to commemorate the lives of beloved cats.
When you choose to memorialize your feline friend in the form of a diamond made by Heart In Diamond, you have the opportunity to choose from five different colors. You may choose from among blue, white, orange-yellow, yellow-green, or deep red.
Because each cat is different, each diamond created from their remains will be different as well. For example, the particular shade of red might vary between a Maine Coon cat, a Siamese cat, and a Bengal cat, and the shade might even vary between cats of the same breed. As a result, you receive a diamond that is entirely unique to your cat.
Heart In Diamond can make diamonds in one of three different cuts to suit the preferences of grieving cat owners.
There are three different cuts from which the owners of cats can choose when having their memorial diamonds created. These cuts are as follows: Brilliant (round) cut, princess cut, and radiant cut. In addition, Heart In Diamond can provide additional cuts upon request.
The round brilliant cut is one of the most popular diamond cuts. This diamond shape is made by creating many facets around the diamond. Thanks to these many facets all reflecting the light, this round cut is known for the brilliance it creates.
The princess cut has a square top and tapered sides. Its many facets make it particularly reflective and beautiful. It also keeps more of the original stone than does the brilliant cut and is extremely flexible as far as fitting various ring sizes. These features also make it a very popular cut.
The radiant cut has rounded corners instead of the sharp corners of the princess cut. This beautiful cut's many facets allow it to reflect lots of light. Other available cuts include the boxy asscher cut, the pear-shaped cut, the oval cut, the elongated marquise cut, and more.
Heart in Diamond can make diamonds in one of nine different weights to match the amount of cremains available, as well as the preferences and budget of the cat owners.
You may not always want to use all of your cat's remains for a memorial diamond. For example, you may want to take some of their cremains and place them in an urn or scatter them somewhere special. In addition, different cats have differing amounts of cremains. For example, a small Abyssinian cat and a large ragdoll will have different cremains.
To help you achieve the right size for your cat's memorial diamond, Heart In Diamond can make diamonds in one of nine different sizes. These range from less than a tenth of a carat to more than two carats, and they allow you to choose the perfect size to honor your cat.
Five beautiful examples of the kinds of diamonds Heart In Diamond can make from the ashes of cats demonstrates how cat owners can forge lasting remembrances of their beloved felines.
Persian Cat Ashes to Blue Brilliant Diamond
The brilliant blue diamond sparkles as it reflects light from its 58 facets. No matter what size you choose, this type of diamond will radiate the beauty that your Persian cat brought into your life in a rich blue color that will make both the diamond and your memories of your cat stand out.
Burmese Cat Ashes to Red Princess Diamond
Square on the top and pyramid-shaped on the bottom, the princess cut and its 58 facets sparkle with the elegance, beauty, and regalness of the Burmese cat. Its deep red color will always remind you of the love you shared with your feline companion.
Himalayan Cat Ashes to Orange-Yellow Radiant Diamond
The radiant cut is eye catchingly beautiful, especially in an orange-yellow color that is sure to stand out in whatever kind of jewelry you place it in. The radiant cut is specifically made to reflect the light in a stunning way so you always remember the light your Himalayan cat brought into your life.
Manx Cat Ashes to White Brilliant Diamond
The white, or colorless, diamond is a classic color. In a brilliant cut, it maximizes the amount of light your diamond reflects and allows you to wear it however you choose to always keep the memory of your Manx cat close.
American Shorthair Cat Ashes to Yellow-Green Princess Diamond
The yellow-green princess cut allows you to capture the individuality, and delicate beauty found in the American shorthair cat.