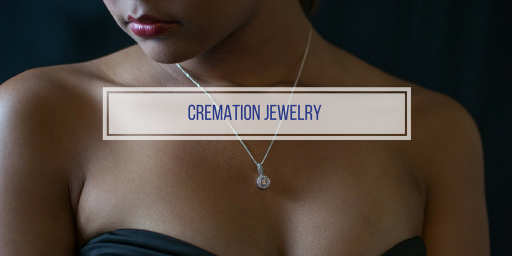 Author: Ruth Hawk
Last revised: March 19, 2019
Cremation jewelry is (almost) as old as mankind but only recently gaining in popularity
When death strikes, the natural impulse is to hang on to the one who has died. Acting on that impulse has led to the long history of cremation jewelry, a history that began thousands of years ago and has continued in one form or another to the present day.
Classic mourning jewelry contained part of the loved one's remains, such as their hair, ashes, nails, or even blood, placed inside a necklace or a ring. Images, sayings, names, and birthdates were also often inscribed on the jewelry. Often, multiple pieces of jewelry would be made and given to family and friends.There are even cremation rings for men availabale.
This tradition was particularly common in the 16th and 17th centuries. However, in the 1800's, faced with a child mortality rate of more than 20 percent, and the appalling losses incurred by the Civil War, it became common practice to encase the hair of the deceased in lockets, which were then worn on necklaces. Some soldiers even left behind locks of hair for their families to use in case they died on the battlefield.
Today, cremation jewelry is still around, though it now incorporates silver, gold, jewels, crystals, and other bright elements as well as the ashes left from the cremations. In particular memorial diamonds made from the cremains of the deceased offer a brighter, more beautiful, and more permanent type of remembrance jewelry. Yet, while the form may be different, cremation jewelry today still allows families to honor the memory of their loved ones for the long term.
When you choose a cremation ring, you make a bold choice to honor your loved one with a brilliant diamond and a sparkling setting that match the memories you have of the deceased.
Cremation rings have been a staple of remembrance jewelry for centuries. Originally, they consisted of rocks, wood, or metal that would be engraved with images or that contained compartments where the physical remains of the deceased could be placed. At times, strands of hair would be plaited by hairwork into pretty designs and placed inside the ring.
Today, there are many more options for building a cremation ring. When you choose to use a memorial diamond made from the ashes of a loved one's incremation, you have the opportunity to create a stunning and personalized tribute to your lost loved one. Your customized diamond may be paired with settings as ornate as the diamond-encrusted pave or as simply timeless as a classic cathedral. The choice is yours, and the end result is the perfect tribute to the life of your dead loved one.
Cremation earrings allow you to pay tribute to your loved one in unexpected and beautiful ways.
Traditionally, cremation jewelry consisted of rings or pendants, instead of earrings. Today, however, earrings offer you the opportunity pay tribute to your loved one in unexpected and beautiful ways by placing a memorial diamond into a wide variety of earring mounts.
You can choose from among simple hoop mounts, snowflake shapes, flower clusters, and more. Plus, you can incorporate diamonds of many different cuts and sizes to create the ideal memorial for your loved one. Thanks to their unique beauty, these earrings can be worn all year round, for many years, so that your memory of your loved one becomes a permanent and eye catching part of your life.
Memorial diamonds make a stunning addition to your cremation jewelry. Rather than serving as a container for your deceased loved one's cremains, these diamonds are your loved one, in a gorgeous and permanent form.
When you use a memorial diamond in your commemoratory jewelry, you choose to transform your loved one's ash into a gorgeous and permanent form that itself serves as the memorial to the beautiful life that has been lost.
Every diamond is formed from carbon, which, under just the right conditions, grows into the rigid, brilliant, unmistakable form of the world's most beloved gemstone. A synthetic diamond uses carbon extracted from your loved one's remains after their incineration. That carbon is then placed within the high pressure (60,000 atmospheres) and high temperature (3,632 degrees Fahrenheit) environment needed to transform it from ash to diamond, from cremains into a memorial treasure. The purity is just as high as the purity of a natural diamond.
When you receive that beautiful rock, of however many carats, you hold in your hand the remains of your deceased loved one. In addition, you hold a customized tribute to their memory. With multiple colors and cuts from which to choose, you get to create a diamond that accurately reflects the type of person the deceased was and the impact they had on your life.
Cremation necklaces allow you to keep your loved one literally close to your heart in a way that is versatile, beautiful, and perfectly suited to your life.
The goal of cremation jewelry is to keep the memory of your loved one close long after they are gone. There are few better ways to do so than by creating a cremation necklace. At the center of this necklace is the memorial diamond, which rests as close to your heart as any piece of jewelry can get. With this beautiful diamond being enhanced by the surrounding metals, crystals, gems, and designs, your love for the deceased, and the vital role they played in your life, will be unmistakable.
Choose from many necklace settings. From simple pendants to more complicated patterns and designs, these settings empower you to select exactly the kind of necklace that will make you feel close to your loved one. As you wear it day after day, it will rest near your heart, reminding you always of your loved one.
Pendants are a powerful way to incorporate a memorial diamond into a piece of statement jewelry. The many pendant settings available make their simple beauty unforgettable.
The power of pendants is in their simplicity. With little else but the pendant on the chain, it becomes the focal point, inspiring awe, emotion, and, in the case of a memorial diamond, the memories of the deceased loved one.
There are many different types of unforgettably beautiful pendants. For example, imagine pairing your memorial diamond with a flower-like pendant. Or adding a bit of elegance with a half moon pendant. The result can be the look and the feel you want, with the emphasis remaining always on the person you wish to remember.
Cremation jewelry is a way to permanently keep the memory of your loved one close. Unlike other tributes, you can keep a piece of cremation jewelry and pass it down from generation to generation.
You will never forget about the loved one you lost. That is why so many memorials, from monuments to tattoos, try to create a permanent remembrance of the deceased. You want the tribute to them to last as long as your memory of them will, and, perhaps, even longer.
Unfortunately, many tributes eventually fade away. Tattoos go with you to your grave. Monuments wear down. Burial plots are eventually neglected. A plaque might break or tarnish. But, a diamond is forever.
With one of our gems, you have the opportunity to hold onto the memory of your loved one for the long term. Even after you are gone, you can pass the diamond down from generation to generation. Not only will the jewelry serve as the perfect opportunity to honor your memory of the deceased, but will itself, whether an earring, a ring, or a necklace/pendant, become a treasured family heirloom.