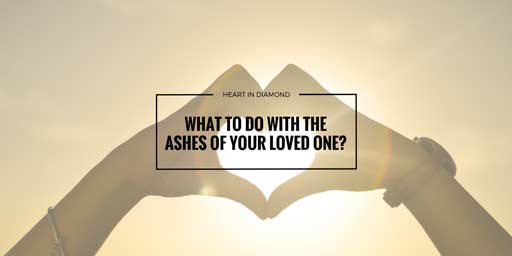 Last revised: June 20, 2019
What to do with cremation ashes?
Are you wondering what to with ashes after cremation? Luckily, there are plenty of options for those who want to honor their loved one. From cremation jewelry and bios urns to tattoos and helium balloons, you can pay tribute the deceased using their ashes in many different ways.
While some cultures and religions (such as Hinduism) have always preferred cremation over burial, cremation is now enjoying widespread popularity. In fact, in 2015, the U.S. cremation rate of 48 percent was greater than the burial rate of about 45 percent. In some states (such as Nevada and Washington), the cremation rate exceeds 70 percent.
With a lower cost and a positive environmental impact, it makes sense that cremation is so common. And, it is likely that the practice will continue to grow, with the National Funeral Directors Association (NFDA) projecting that national cremation rates will exceed 70 percent by the year 2030.
The increasingly high rates of cremation leave families with a new question: What do we do with the ashes after cremation? With anywhere from 3 to 10 pounds of ashes produced each time someone is cremated, families are faced with the question, what to do with all those cremains? Caring for a body means choosing a cemetery and burial plot.
Although there are many options available, turning ashes into jewelry is becoming increasingly more common. At Heart In Diamond, you can use your loved one's ashes to create a real diamond. The carbon from the ashes becomes a sparkling gem, which you can then cut and set to create a customized memorial.
Some people also turn cremains into keepsakes. When cremated remains are turned to diamonds, the resulting gem can be customized to reflect the most important qualities of the deceased. These beautiful gems are affordable (often less expensive than a traditional burial). Memorial diamonds do not have to use all of the ashes from your loved one's cremation. As such, you can reserve some of the ashes for other uses if you wish.
A diamond is forever," as the saying goes, and when you are turning ashes to cremation diamonds, that saying is a comfort. Reefs will eventually die. Tattoos will fade, and urns will break. However, a diamond will withstand the test of time. But this does not mean that there are other ways to honor your loved one. Some people do not wear jewelry or diamonds, and as such there are plenty of other viable options below.
Here Is What Else You Can Do With Ashes After Cremation
When deciding what to do with ashes, many people, unconsciously or not, want to accomplish three things: Honor their loved one; Achieve a permanent tribute to the deceased; and Get closure (or at least make the grief feel more manageable). Nowadays, there are many ways to do exactly that. Below you will find ways to pay tribute to your loved one with their ashes or cremains after they have been cremated.
1. You can place the ashes in a decorative container called an urn and display the urn in your home. You do, of course, have to decide where to put the ashes. If you have other members of your family that would like some of the ashes, they have each have their own urns.
2. Turn their ashes into fireworks. What better way to celebrate a loved one's life?
3. Another popular way to pay tribute to your loved one and their ashes is to scatter them somewhere. This could be one place or many different places. If they were a nature lover, they would probably like their ashes scattered at one of their favorite sites. If a particular place was meaningful to them, it is a wonderful site to consider scattering their ashes.
4. Send their ashes to the moon. There are companies that will send the ashes to outer space.
5. Another option is to get a tattoo with the ashes. The tattoo artist will actually mix the ashes with the ink. Then the creativity is up to you as far as the tattoo design itself. If you are getting a tattoo of something that was important to your loved one, it is really two tributes in one. But, keep in mind that tattoos do fade.
6. Some companies will press your loved one's ashes into a vinyl record and create a record that plays the song or songs of your choice.
7. Another popular way to pay tribute to your loved one and their cremains and a bios urn. It takes the ashes and converts them into a tree. This is a wonderful way for them to live on forever in a different form of life. It is a return to life through the use of nature. This is the perfect way to honor a nature-lover.
8. Use the ashes as ammunition. You can get the ashes turned into loaded ammunition. You can store the ammo in the engraved wooden box it comes in, or you take it along on your next hunting trip.
9. Store the ashes in a stuffed animal urn. There are companies that create stuffed animal urns so that you can keep the ashes inside. When you're feeling lonely, give it a hug.
10. Turn ashes into a concrete reef. If your loved one loved the ocean, you can have a company turn their ashes into a concrete reef that will provide protection and habitat for ocean life.
11. Turn their ashes into an everlasting diamond by Heart In Diamond.
As you can see, the options range from relatively well-known to pretty far-flung and unusual. But one thing is for sure—If it helps you move on, it is well worth it. Thanks to the number of choices for dealing with cremains, the choice remains a personal one. Figuring out what to do with ashes after cremation does more than create a permanent tribute to a beautiful life. It can comfort you while you live your life. And that is very important.
Having to say goodbye to a beloved friend or family member can be excruciating. But paying tribute to them can help you to keep your loved one and your memories, comfortingly close. When you decide what to with ashes after cremation, their memory can live on, no matter what you choose.