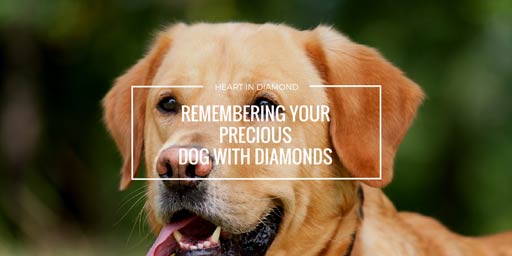 Author: Ruth Hawk
Last revised: July 26, 2017
DIAMONDS FROM DOG'S ASHES: CHOOSING THE RIGHT DIAMOND COLOR FOR YOUR DOG'S CREMATED ASHES
The loss of man's best friend can be as difficult as the loss of a human family member or friend. In one study published in the Journal of Mental Health Counseling, people tended to rank their relationship with their dog as equal to or closer than their closest human relationships. Naturally, the loss of our canine companions will be as sorrowful as the loss of even parents or siblings, as the stories of these dog owners show.
Acknowledging the sadness and actively addressing it can be the most effective way to work through the loss of a beloved canine. For many pet owners, this means keeping their dog's ashes in an urn, or marking their graves with a headstone. But, for many other pet owners, memorial diamonds made from their pet's ashes offer a beautiful yet subtle way to keep the memory of their deceased doggy friend close.
These diamonds are not just for celebrity dogs and their owners. Anyone can have a diamond made from their dog now. The process and dog ashes into diamonds cost is more affordable than you probably think. With memorial diamonds coming in many different colors and almost any shape you desire, it is easy to find a gem that matches your dog's personality. Each color of diamond can reflect a different kind of personality or jewelry or relationship. If you want to know what color might work best for the diamond formed from turning dogs ashes into diamonds, consider the suggestions below.
GET A DOG ASHES BRACELET MADE
One of the most popular ways to commemorate your pup is by turning their ashes into a bracelet that has diamonds on it. There are many styles to choose from, and you can get them made in the precious metal you like best. Wearing a diamond bracelet made from dogs ashes is special because you can see it at all times. Just look down at your wrist, and you'll have a lovely, gentle reminder of your furry friend. Your dog ashes bracelet allows you to take your pet with you on all of your new life adventures so they never have to miss a moment of your life.
TURNING A LABRADOR'S ASHES INTO DIAMONDS: CONSIDER GREEN OR YELLOW TO REFLECT THE STURDY, FRIENDLY, AND LIVELY SPIRIT OF THE LAB.
Labrador retrievers have laid back personalities that make them ideal family dogs. At the same time, they possess a bright and energetic spirit that leaves them willing to play all day long. When turning your labrador's ashes to diamonds, you can showcase these qualities with a bright and welcoming color like green or yellow. Either one encapsulates the dependable and energetic personality of your lab.
TURNING A GERMAN SHEPHERD'S ASHES INTO DIAMONDS: CONSIDER ORANGE-YELLOW TO MATCH THEIR SERIOUS, STEADY, AND HARD WORKING PERSONALITIES.
German shepherds are known for their loyalty, intelligence, and courage. These personality traits make them ideal guard dogs, good with children, and capable of learning and undertaking many different jobs.
When turning your German shepherd dog ashes into a diamond, you might want to capture these traits with an orange-yellow color. The warm glow of the orange denotes humility and steadiness, reminding you of the safe space your canine friend provided.
TURNING A GOLDEN RETRIEVER'S ASHES INTO DIAMONDS: CONSIDER BRIGHT, BOLD COLORS TO REPRESENT THE RETRIEVER'S VIBRANT, PLAYFUL PERSONALITY.
Smart and loyal, golden retrievers are especially known for their playfulness. Their lighthearted attitudes last long into adulthood and make them fun pets to have. Their energetic spirits also make them stand out brightly in the lives of their owners.
As a result, when you are turning your golden retriever's ashes into diamonds, choose a playful and bright color. The exact color matters less than the vibrancy and richness of the hue. The bolder and brighter the color, the more accurately it can portray the beauty and appeal of your golden retriever's spirit.
TURNING AN ENGLISH BULLDOG'S ASHES INTO DIAMONDS. CONSIDER THE GENTLE AND RADIANT WHITE TO MATCH THE QUIET AND PATIENT ATTITUDE OF THE BULLDOG.
English bulldogs are steady, dependable fellows with a quirky appearance. Extremely social, they thrive on human interaction, but their low energy levels make them great apartment pets and easily satisfied with only a small amount of exercise.
Thanks to the bulldog's gentleness and desire to please, white might be best when turning your English bulldog's ashes into diamonds. This classic color is beautiful and vibrant, just like your dog, and can be paired with many different cuts to reflect the gentle radiance of your bulldog's personality.
TURNING A BEAGLE'S ASHES INTO DIAMONDS: CONSIDER GREEN TO REPRESENT THEIR ACTIVE EMBRACE OF LIFE.
With the curiosity, joy, and energy level of a small child, beagles are fun to own and easy to love. Their bubbly, and sometimes stubborn, personalities can endear them to their owners and make them ideal for active and patient families.
If you want to get diamonds from your beagle's ashes, you may want to consider a lively color, like green. Green sparkles with youthfulness and vitality, making it perfect for remembering a dog whose love of life never seemed to grow old.
TURNING A YORKSHIRE TERRIER'S ASHES INTO DIAMONDS: CONSIDER A BOLD AND SPARKLING COLOR THAT CAPTURES THEIR LIGHT HEARTED PERSONALITIES.
The Yorkshire terrier's small size is overcome by its bold and confident personality. Terrier owners can attest to their active curiosity and boundless energy. Honoring them means making their ashes into diamonds that reflect this same open approach to life.
The best color to achieve this look is a bold color. Blue in particular signifies the eternity of your love for your beagle and the sparkling richness of their spirit. In any cut, a rich blue properly honors the brightness your Yorkshire terrier brought to your life.
TURNING A POODLE'S ASHES INTO DIAMONDS: CONSIDER THE ELEGANCE OF WHITE OR THE VITALITY OF GREEN.
Highly intelligent, poodles look regal but are very friendly. Their vibrant personalities and mental smarts mean that they are willing to train and work hard. As a result, they make wonderful show dogs and family dogs alike.
In order to capture the intelligent mind and elegant looks of the poodle, consider a white or green diamond. These bright hues convey liveliness and beauty. At the same time, they can be particularly radiant and striking, allowing you to capture the unforgettable sparkle of your poodle's personality.
TURNING A ROTTWEILER'S ASHES INTO DIAMONDS: CONSIDER GENTLE, LESS INTENSE COLORS.
Calm and confident, rottweilers are natural guardians and kind and friendly toward children. Their strength and trainability make them good candidates for even difficult jobs.
Rottweilers are best memorialized through strong but not intense colors. Less intensity denotes their gentleness, while a strong color denotes their strength. As a result, colors such as red, or orange-yellow make good choices when turning your rottweiler to diamonds.
TURNING A BOXER'S ASHES INTO DIAMONDS: CONSIDER THE BRIGHTNESS AND THE LOYAL CONNOTATIONS OF BLUE.
Active and intelligent, boxers' sturdy shape and busy minds leave an indelible impression upon your life. Honoring them with the right fancy color diamond might mean turning their ashes into blue diamonds. This color signifies eternity and loyalty, while allowing you to capture the brightness of their love and of their presence in your life.
TURNING A POINTER'S ASHES INTO DIAMONDS: CONSIDER THE WARMTH AND LIVELINESS OF GREEN OR YELLOW.
Calm and loyal, pointers were bred to hunt. They are willing to work hard, and they demonstrate great agility and a willingness to have fun. This fun-loving, but gentle nature can be beautifully captured in a yellow or green diamond. The liveliness and youthfulness of these colors combine with a warm hue to remind you of the comfortable, yet active, place your pointer occupied in your life.
Diamonds from labs, pointers, boxers, chihuahuas, basset hounds, pomeranians, or mutts all have one thing in common: They allow you to memorialize a beloved pet in a way that is unforgettable. By choosing the right color to go along with your dog's personality, you can enjoy a remembrance of their presence in your life every time you look at your tribute jewelry.