3 Dog Owners Share How They Met
"A dog is man's best friend," as the saying goes. But how do people know that they have met their new best friend? Is it a look? A playful interaction? A certain, indescribable feeling?
According to some dog owners, it can be any (or all) of the above. And that moment of finding one's doggy companion often leads to many years of wonderful, surprising, and life changing events. What follows is a look at a few dog owners who share how they met their pets, and the difference those pets have made in their lives.
A mad dog & and an Englishwoman discover the joys of traveling in each other's company.
Belinda Jones has always loved to travel, and has often shared those travels with others through fictional novels and one non fiction Sunday Times Top 10 Bestseller book. What she did not know was how much more special her trips would become with the addition of a furry companion. What follows is her description of the first time she met that companion: Bodie.
For Bodie and me, it was less love at first sight and more love at first sit! I was actually interested in the one-eyed Chow Chow in the cage next to him at a Los Angeles street adoption, but the rescue group (Pryor's Planet run by Richard Pryor's widow, Jennifer) knew better: They told me Bodie was the perfect size for my bijou apartment and loved riding in cars – ideal for my road-tripping lifestyle. When they brought him out into the sunshine to meet me, he sat his furry bottom down on my bare flip-flopped foot, and that was it! I knew we were a match. Since that day, we have travelled to 30 U.S. states – from snowy peaks in Colorado to the lobster pots of Maine – and Bodie has proved to be my American Dream Dog, even now as we are based in the UK and exploring muddy Devon!
Bodie's adoption and sweet companionship inspired Belinda to start a website and base her next book (due to be published July 2017 by Summersdale) on the joys of traveling with her canine friend.
A single Facebook photo and a feeling of fate bring together a sweet border collie and a grieving pet owner.
Roxanne Hawn had lost a beloved border collie companion named Lilly under heartbreaking circumstances in late 2013. Less than a year later, in September of 2014, she had just sent off a draft of a book honoring Lilly's memory and was still grieving the loss of her dear canine companion.
While she knew that someday she would be ready to adopt another puppy, she did not expect to find another canine friend while scrolling through Facebook and still experiencing grief over Lilly.
Yet, the eager face of a border collie puppy 1,600 miles away from her Colorado home captured her attention. At that moment, in some indescribable way, Roxanne knew that puppy was meant to be hers.
Bringing that puppy, whom she named Clover, home from Virginia took 10 days and "military ops" style planning. Along the way, Roxanne encountered the perfectly timed intervention of friends that transformed the process from impossible to smooth within a matter of days.
Clover (along with a second adoptee named Tori) is now the star of Roxanne's blog, Champion of My Heart. While not a replacement for the still beloved Lilly, Clover has earned a permanent and beloved place in Roxanne's heart as her antics and love fill up not only the blog but also Roxanne's life.
A last-minute rescue turns into a treasured family member.
When Lara saw Ruby's picture on Petfinder in 2013, she was immediately impressed by the dog's mischievous look and beautiful features. That affection soon turned to a deep love between the two, as Lara discovered in Ruby an unusual intelligence as well as a vibrant personality that kept Lara on her toes.
Even though Lara was an experienced dog owner before adopting Ruby (she had loved and lost two other dogs), Ruby drew Lara into an even bigger and more active world of pet ownership. Lara explored different training techniques to help manage her active dog, was challenged to understand and meet her pet's needs in deeper ways, and discovered a stronger love for Ruby than she had previously thought possible.
What Lara also discovered in adopting her border Jack was that the dog had narrowly escaped euthanasia. She had been rescued by Arkansas Angels for Animals, which finds rescue, foster, and adoption placements for animals in high kill locations.
Discovering the way in which Ruby had been saved spurred Lara to support rescues herself. Later, she fostered a Bahamian potcake she named Boca, whom she also adopted.
Now, she runs a blog called Rubicon Days chronicling the exploits of her furry friends, and she credits Ruby with awakening in her a deeper and more self-giving love for dogs than she had ever experienced before.
These stories from dog owners demonstrate the incredible bond that dogs and their owners can share. This bond can best be memorialized through Heart In Diamond gems that capture the same beauty and permanence that mark the bond between a dog and their owner.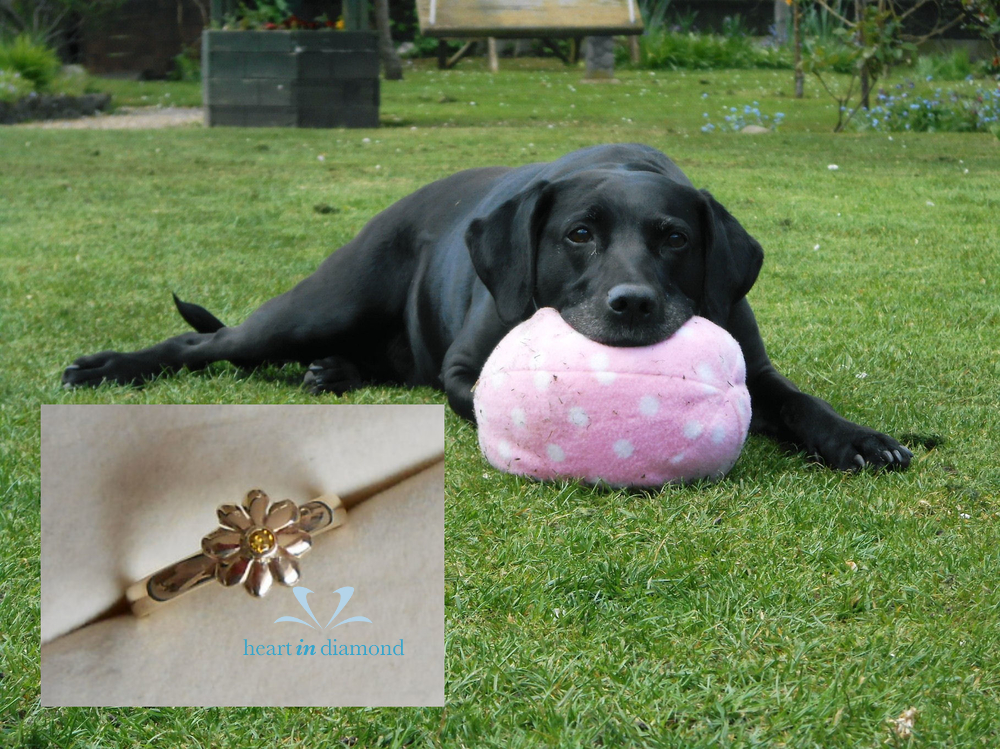 As these stories show, doggy family members often make themselves known in unexpected and beautiful ways. And the bond they forge with their owners is almost always a life changing one. From enriching your regular activities to introducing you to newer, better ways of doing things, they promise to leave you permanently changed for the better.
That is why many dog owners memorialize their deceased pets in a permanent way through jewelry from Heart In Diamond. Heart In Diamond creates jewelry from pet's ashes. Many different sizes and shapes are available in order to reflect the unique beauty of your dog and the relationship you shared together. The striking and beautiful presence of dogs deserves this type of striking and beautiful tribute. With the right jewelry from pets ashes, you can honor the bond you shared with your furry companion for the long term.