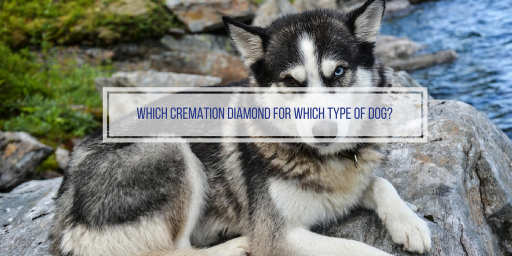 Last revised: April 18, 2019
Which Dog Breed Fits Which Diamond Best?
Choosing the right type of diamond to honor your deceased dog is easier if you can match your dog's personality to a diamond cut.
According to the people at Petful, there are many ways to memorialize one's pup, from writing a tribute to putting together a photo album. There is even a Victorian-age brooch, revealed on Twitter by science writer Alexi Baker, that includes an image of the dog and a lock of its hair to honor a deceased but beloved companion. While the methods differ, what they each have in common is an ability to personalize the memorial, to capture the essence of the beloved Bailey, or Max, Bella or Lucy.
Cremation diamonds from dogs ashes serve as tangible, lasting and beautiful memorials to animals who have become beloved members of the family. One of the reasons that these gems are ideal for remembering man's best friend is because their color, cut and even the jewelry into which they are set can be tailored to reflect the personality and breed of the dog from which they are made.
How do you know what kind of diamond will best honor your dog? Should you get a baguette diamond or a princess cut for your chihuahua? Will your old dog Molly best be honored by a small round diamond or by a 2-carat radiant cut? While only you, as your beloved canine's owner, can make that decision, it can be helpful to see what kinds of diamond cuts suit certain breeds best.
Heart In Diamond test matches dog breeds and their personalities to certain cuts of diamonds.
If you want to get an idea of what kind of diamond will suit your dog, you might find the following test to be helpful. It covers the most common breeds of dogs and suggests a cut of diamond that might best reflect the dog's personality.
Because each dog is unique, this test is just a suggestion regarding what might work best to help you honor your canine companion. If you need more help making a selection, Heart In Diamond can help you learn more about your choices for creating a diamond that honors your treasured and faithful pet.
You don't need to be a celebrity dog owner to have diamonds made from your beloved canine friend.
Dog Breed:
Beagle
Personality:
This domestic dog is good-natured, sturdy and cheerful.
Diamond Cut:
The asscher cut is a boxier, square diamond cut that will reflect the steady, sturdy yet beautiful presence of the beagle in your life.
Dog Breed:
Boxer
Personality:
The boxer is a powerful and eye-catching creature with a strikingly beautiful coat. Their powerful build and impressive strength are balanced by gracefulness and intelligence.
Diamond Cut:
The radiant cut combines the boxiness of a square cut with the elegance and beauty of a multi-faceted cut, just like the boxer's powerful appearance and elegant personality.
Dog Breed:
Bulldog
Personality:
Bulldogs can weigh up to 55 pounds and have large heads, but what stands out most about them is their gentle, friendly personality.
Diamond Cut:
The marquise cut maximizes perceived size and combines a powerful presence with a gentle beauty, just like your bulldog.
Dog Breed:
Chihuahua
Personality:
Chihuahuas pack a lot of personality into a small package. They are intelligent, large-eyed and excitable.
Diamond Cut:
The princess cut is a beautiful type of square cut diamond with beveled edges that reflects the strong yet beautiful personality of the chihuahua.
Dog Breed:
Dachshund
Personality:
Dachshunds' three sizes, 12 colors and 3 markings make them a diverse-looking group of dogs. Yet they all share the friendly, alert and active personalities that make them one of the American Kennel Club's most popular dogs.
Diamond Cut:
The pear-shaped diamond is a good choice for a dachshund, because it reflects the dog's elongated body and its vibrant personality.
Dog Breed:
German Shepherd
Personality:
The German Shepherd is a large, solid dog known for their reliability. These dogs are hard workers, very intelligent, fast on their feet and extremely popular among dog owners.
Diamond Cut:
The marquise cut's size and strength make it ideal for remembering the powerful, reliable presence of a beloved German Shepherd.
Dog Breed:
Golden Retriever
Personality:
Their beautiful, wolf-like coats and long, flowing tails are hallmarks of one of the friendliest and most hard-working dogs out there: the golden retriever. This dog likes to play but will also willingly devote itself to any type of work.
Diamond Cut:
The oval shape retains a classic feel while incorporating a level of uniqueness and individuality that is ideal for the loyal, hard-working, but fun-loving personality of the golden retriever.
Dog Breed:
Great Dane
Personality:
Known as gentle giants, Great Danes can stand almost three feet tall. Their large size, however, belies a gentle, friendly, playful and affectionate personality that makes them good family dogs.
Diamond Cut:
The square shape of the cushion cut softened by the rounded corners lends itself to a look of both size and softness. This shape is ideal for memorializing a Great Dane's large but gentle personality.
Dog Breed:
Husky
Personality:
Siberian Huskies come with wolf-like coats, strikingly beautiful eyes and unmistakable faces. In addition, they are characterized by intelligence, independence and a love for physical activity.
Diamond Cut:
The pear cut is unique enough to reflect the independent spirit of the Husky. At the same time, its symmetrical shape and distinct beauty make it reflective of the radiance and intelligence of the husky.
Dog Breed:
Labrador
Personality:
The Labrador is defined by an intelligent, family-friendly, eager to please personality that makes them the most popular breed of dog by far.
Diamond Cut:
The heart-shaped cut is perfect for honoring a Labrador, because it symbolizes the deep love that Labradors have for their family, as well as the love that they engender within their owners.
Dog Breed:
Poodle
Personality:
The poodle is an elegantly-shaped dog that comes in three different sizes. Their unique appearance is combined with an active mind and body.
Diamond Cut:
The princess cut reflects the delicate beauty of the poodle, as well as the vibrancy of their intelligent personalities.
Dog Breed:
Rottweiler
Personality:
Rottweilers are known for their guarding abilities. They love to work, and are happy serving as guide dogs, police dogs, herders and more.
Diamond Cut:
The classic round cut diamond is an accurate representation of the steady, hard-working nature of Rottweilers.
Dog Breed:
Shih Tzu
Personality:
The small Shih Tzu boasts a long, flowing coat that has earned it the nickname, "Lion Dog." These cute dogs sport a playful personality that makes them appealing family pets.
Diamond Cut:
The radiant cut is ideal for Shih Tzus because its many facets reflect the beauty of this breed, while its shape reminds one of the unique and playful personality of these much loved dogs.