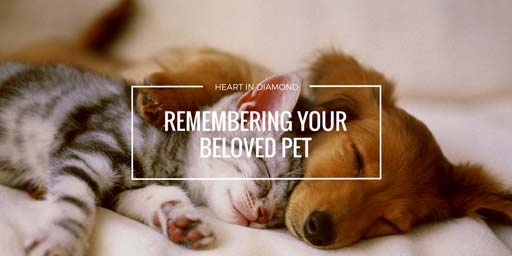 Author: Ruth Hawk
Last revised: April 18, 2019
TURNING PET ASHES TO DIAMONDS
Many people are now choosing to convert their pet ashes to diamonds which allows them to carry their pet with them everywhere they go. The process of converting your furry friend's ashes to diamonds is much easier than you think. Heart In Diamond uses a precise and scientific method that allows them to develop gem grade diamonds using your pet's cremains. Immortalizing your pet's life is affordable as well—turning pet ashes into diamonds cost is lower than most people realize.
Recovering from your dog's passing can seem unreal. Waking up to realize that your best friend is gone can cause people to go into the seven stages of grief, whether the being passing was human or an animal. Once your pet is gone you are left wondering what to do with your animal's ashes. You know that you want to honor your fur friend's wonderful life but burying them in the ground can seem unbearable. Losing a pet can feel like you have lost an important member of your family. Our pets are loyal and playful and bring joy to our everyday lives. It can be difficult to process, but losing a domesticated pet can evoke similar feelings to losing a loved one. Author, Moira Anderson, M.Ed., explains that only recently, however, have researchers come to realize that a pet may also be considered a loved one and a family member, and that its death may evoke similar and often equally intense emotions.
HEART IN DIAMOND TURNS PET ASHES TO DIAMONDS AND CREMATION JEWELRY
Upon losing a pet it can be difficult to know what to do with their body. Burying your beloved pet can be a heartbreaking situation as you are physically forced to leave them behind. This can lead to a feeling of guilt for some owners as they can feel like they are abandoning their pet in that spot. However, it can difficult to take all of your loved ones to the same burial site when you want to share the passing of your beloved fur baby. Others choose to cremate their pet but are still left wanting to share the memory of their pet with the people around them. Turning pet ashes to diamonds allows you to take your pet with you on all of your new life adventures so they never have to miss a moment of your life.
People choose different ways to commemorate pet ashes but an increasingly popular trend is to have your animal's ashes immortalized with cremation jewelry. It doesn't matter if you owned a pet labrador or a rambunctious rodent, your dog ashes or other animal's ashes can be made into a diamond via the process of memorial cremation jewelry. Many people are surprised when they find out that you can have an exotic pet, such as a rat or rabbit's ashes turned into a pet ashes rings with a diamond, but it's true. It may not be first choice for some pet owners but love is felt by all pet owners no matter what species their pet belong to. Pet lovers of exotic animals want to remember their pet, as much as a cat and dog owner, and they can do this through memorial jewelry. A piece of memorial jewelry is a great way to keep your pet with you without needing to bury your pet and say good-bye forever.
Examples of Memorial Diamonds From Pets

$623

$438

$531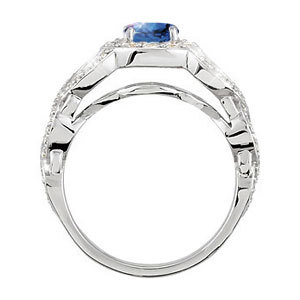 $2030
IT DOESN'T MATTER IF YOU ARE A CAT, DOG OR BIRD LOVER! HEART IN DIAMOND HAS A CREMATION DIAMOND THAT WILL HONOR YOUR PET'S MEMORY.
Typically, people usually fall into one of two categories: cat or dog lover. Heart In Diamond doesn't take sides on which is the better pet. We love all pets! Instead, we work hard to preserve the memories of pets who have passed on by creating jewelry that is meant to last a lifetime. Some people argue that cat people are the most dedicated to their pets, from buying them special cat food to having extra stock of their favourite toys stashed away. They also love to joke about how hard a person has to work to make a cat love them. Sadly, after your cat passes away you are left with their cremation ashes as one of the few reminders of your kitty's 'purrfect' life. Cremation diamonds are a great way to celebrate your kitty's memory and make a great conversation piece to talk about the wonderful times you shared together.
Dogs deserve as much attention as their beloved kitty counterparts. Dogs are energetic, outgoing and share their owner's enthusiasm for life. Most dog owners will tell you that their best friend was always waiting for them when they got home and was excited to go out and experience the world around them. Memorial jewelry allows you to continue taking your favourite pooch on these adventures by developing a diamond in their honor and is created from a piece of them.
HEART IN DIAMOND MAKES YOUR CHOICES FOR MEMORIALIZING YOUR PET SIMPLE AND EASY.
A gem grade diamond means that the diamond meets the standards of clarity, cut, color and carat. Heart In Diamond produces diamonds that can be created in colors such as white, blue, orange-yellow, yellow-green and red, like those diamonds found and processed during today's regular mining process. You can almost envision a rainbow of colors, like the rainbow bridge your dearly departed pet will be travelling over, when you think about the options that Heart In Diamond can offer you when deciding the best option for your pet's final resting place.
You are going through a difficult time when your pet passes, so you need as much support as possible when deciding how to honor their memory. This may be surprising to some people but pet owners understand that the pet care they provided consumed large amounts of their time, making the pet a major part of their life. Here at Heart In Diamond we are passionate about our pets and each of us has either a rescue rascal or a pampered pedigree and we never underestimate that void left when we have to say goodby to our faithful friend.
HEART IN DIAMOND ALLOWS PET OWNERS TO TRANSFORM THOSE BEAUTIFUL MEMORIES INTO EVERLASTING WORKS OF ART THAT CAN BE TAKEN ANYWHERE.
Heart In Diamond follows a five step process that takes your pet's ashes from cremation ashes to an everlasting jewel. You will begin by deciding which diamond best represents the spirit of your beloved pet. Perhaps you owned a horse and are drawn to the yellow-green color that represents the fields and sunshine that they spent their many days in. Perhaps you lost a bird and the color blue speaks to you as it reminds you of the open blue sky that your friend is now enjoying. No matter what color, the Heart In Diamond consultant will be able to work with you to decide on the color that best mirrors your pet's presence in your life.
The Heart In Diamond consultant will then help you to decide which cut and carat fits the image of how you want to commemorate your pet. Once you have made these decisions you will then decide on the best setting to store the diamond.
A setting can come in the form of a pendant, earrings or ring. Here are few examples as provided by Heart In Diamond.
The next step in the process is to send Heart In Diamond 3.5 oz (? cup) of your pets ashes or .07 oz (½ cup) of fur. You can also combine these two samples and even add a lock of your own hair which will allow you to feel united with your pet. If you don't have enough sample, Heart In Diamond can combine additional generic carbon to create your stunning memorial piece. Your diamond is inspected, polished by a diamond polisher and the 4C's ensured so that the diamond is gem grade. Finally, you can relax and wait for your personalized piece to arrive. Depending on the color you choose you can expect to wait anywhere from 70-120 days for your package to arrive.
Another great feature of Heart In Diamond is that their creation process is environmentally friendly. Traditional diamond mining can be hard on the environment and large companies, like De Beers, are engaged in multiple variations of mining both on land and in the sea. Heart In Diamond can provide a colorless gem cut diamond or a rainbow of choices to ensure that your pet's memory will last forever without impacting the environment. It is important to note that some of the colors that Heart In Diamond does not include are brown, black, pink or purple.
CREATING A PET MEMORIAL
CELEBRATE THE LIFE OF YOUR FAITHFUL FRIEND
When a loved one dies, friends and family recognize that there will usually be a considerable amount of grief accompanying the loss. Many people try to bend over backwards to accommodate the bereaved during their grief process. Employers will usually offer paid bereavement time away from work so that the employee can attend a funeral or memorial service to honor their loved one who has passed away. Friends send flowers and bake casseroles to feed the family. However, when a beloved pet passes away, some people tend to overlook the loss that has been suffered and/or minimally acknowledge it.
Following the death of a pet, the bereaved may not be given the opportunity to speak about their pet or their loss. They aren't treated to the same level of care and concern as with other human losses. They suffer in silence, alone without the support they would have garnered had it been the loss of a human life. As many dedicated pet owners know, the loss of a pet is just as traumatic as any other; however, it is up to them to cope with the grief and manage their pain.
Since they have to cope with their pet's death on their own, pet owners sometimes create personal memorials to remember their pets in happier times and to help ease their grief. Some make video tributes timed to music to share on social networking sites or their blogs. Others purchase an urn to keep their pet's ashes on the mantle. Still others may buy a small monument to signify their pet's burial place in their yard. However, a growing trend that many pet lovers have discovered is a bit more of an elaborate way to celebrate the life of their pet. They are keeping their pet's memories and essence close to them forever in a memorial diamond.
Created from the ashes of a cremated pet, memorial diamonds capture the essence of a beloved pet. Companies like Heart In Diamond, who is a premier provider of memorial diamonds and cremation jewelry, create beautiful, loose diamonds by combining a unique carbon source (your pet's hair or ashes) with a diamond seed. In 70-120 days, a genuine diamond will have been grown in a laboratory setting that mirrors the exact conditions of extreme heat and pressure in which natural diamonds are grown deep in the Earth's core. These man-made diamonds however, are not only eco-friendly, unlike earth mined diamonds, but they are also the most personal diamonds in the world because they forever contain the essence of your pet.
A unique twist to these memorial diamonds is that pet owners can combine their own hair with their pets to symbolize their forever bond. Having lost a pet, owners can now create their own memorial and proudly wear these beautiful gems as a symbol of a transcendent love. Even though they may be grieving without the support of their friends, family, and co-workers, creating one of these diamonds can be a catalyst to help the bereaved move through the stages of grief. At the same time, they are able reflect on the happier moments of their pet's life as they wear their personal diamond set in a ring, a pendant, or earrings. These cherished memorial diamonds will forever enable pet owners to hold on to the love of their faithful companion and have them with them always.
PET DIAMONDS
ONE-OF-A-KIND DIAMONDS FOR A ONE-OF-A-KIND BOND
Our pets are amazing and loyal animals that form a one-of-a-kind bond with us. It's human nature to form bonds with animals that positively transform our lives. Whatever their species, these constant companions are not just pets – they are family. They share our joys during good times and comfort us in times of grief and pain. Through walks in the park or just sitting by the fireside, they help us find the beauty in life's simple pleasures and show unconditional love.
Now, with a cremation diamond, you can cherish your pet's life in the most personal way possible. Turning your pet's hair or ashes into diamonds, Heart In Diamond provides you with a diamond keepsake that is a shining reminder of their unique spirit and personality. Every time you look at your diamond, you will be reminded of the wonderful experiences you shared and your special bond of friendship.
Our pets can save someone from a burning building, be a champion in a race or at a show, or simply provide you with unconditional love that can't be found anywhere else. Honor your special pet, hero, or champion with a one-of-a-kind Heart In Diamond.
PET MEMORIES
Losing a pet is more than losing an animal; it's losing your companion, your friend, a part of your family. Whether they were loyal defenders, prize-winning champions, or quiet companions, their presence provided irreplaceable comfort, selfless friendship, and unconditional love.
Remember your companion's devotion in a cremation diamond. Custom created from your pet ashes or hair, our one-of-a-kind diamonds are a lasting tribute to their devotion.
With your one-of-a-kind Pet Memories diamond, you can smile blissfully as you remember those walks in the park and mischievous pranks, how they comforted you while you were sick, or got mad if you left them for a vacation, their best-in-show achievements, or the quiet moments you spent together simply enjoying each others' company. Our man made diamonds are a way to forever remember and celebrate the special bond that will always exist between us and our devoted pets.
We make diamonds in a variety of cuts, colors, and sizes. View our diamond options and our jewelry options to find the perfect Heart In Diamond diamond for you.
Our diamonds are guaranteed and certified gems.
Find the comfort that Heart In Diamond has already given to so many grieving pet owners.
Learn more about Heart in Diamond