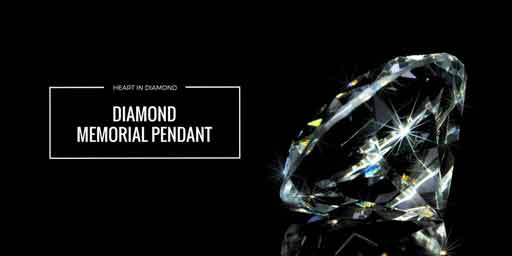 When creating a pendant from ashes, how do you pick the one that reflects your deceased loved one best? Consider the symbolism of the pendant you select.
Pendants feature a single decorative element hanging from a chain. The chain itself usually consists of a precious metal, such as gold or silver, and can be decorative itself. Similarly, the jewelry hanging from the chain can be a single gem or a larger, fancier element (such as an infinity symbol, a flower made out of jewels, etc.).
This type of necklace is part of the long history of necklaces in general. Necklaces, including pendants, have been used as symbols, decorative elements, and memorials that have added richness and meaning to people's lives. Often, they have been used to designate wealth, power, or status. At other times, they have been used as decorative elements for outfits.
Regardless of their uses, however, necklaces have always held meaning. Whether dressing up a casual outfit, making a statement on an evening dress, indicating one's religious affiliation, or serving as a reminder of a deceased loved one, this type of jewelry is hard to ignore. That is why many people want to create a pendant necklace out of their deceased loved one's ashes.
A memorial diamond made from a loved one's cremains makes a beautiful addition to a pendant necklace. The simplicity and focus of the necklace ensures that your loved one's memory will be front and center. And, the many style choices available allow you to select the look that will best honor your deceased loved one.
However, those many options can also make choosing the right pendant feel difficult. How do you decide which look best reflects your loved one?
A good place to start is with the symbolism of the pendant you choose. If you can select a style that best symbolizes the unique relationship you had with the deceased, you will be well on your way to finding the right pendant necklace for your memorial diamond.
The infinity pendant allows you to showcase the eternal nature of your love for the deceased.
The infinity symbol looks like an "8" that has been placed on its side. It symbolizes a never-ending love. Far from being reserved just for romantic love, the infinity symbol can also indicate friendship or familial love. Your memorial diamond can fit into this pendant as the centerpiece of the infinity symbol, or you can choose to line the pendant with many small memorial diamonds.
A simple pendant makes your memorial diamond, and the loved one it represents, the focal point of the pendant necklace.
A simple diamond pendant will use just the diamond as the jewel on the chain. Rather than being set within a decorative shape, or paired with other gems, the diamond made from your loved one's ashes will be the only element hanging from the necklace.
This approach has the advantage of making your memorial diamond the focal point of the necklace. You can then choose a decorative chain or a simple chain, depending upon your preference. If you want your memories of your loved one to be front and center, this type of pendant might be a good choice.
A triangle pendant allows you to memorialize the strength and beauty of your deceased loved one.
A triangle pendant, as its name implies, consists of a triangle shape. When diamonds are involved, they are typically placed within the triangle. Whether that be a small triangle with a single diamond in the center, or a larger triangle with multiple diamonds, this type of necklace signifies the best elements of men and women (i.e. strength, graciousness, etc.). This simple, yet strong, design might be ideal if you want to memorialize a beloved friend or family member in a strong, beautiful way that captures the best elements of their personality.
The heart pendant showcases the love you had for the deceased in a classic way.
The heart shape, of course, connotes love. A heart-shaped pendant, therefore represents all the love you shared with the deceased. This classic shape can also be turned into a more unique look. For instance, larger diamonds can be cut into heart-shaped diamonds. However, you can also add smaller diamonds to a metallic heart shape for a more sparkling look that still showcases your love for the deceased.
A flower pendant is a delicate way to reflect your memories of the loved one.
You may also enshrine your memorial diamond in a flower-shaped pendant. Often, this look is achieved either by placing the cremation diamond in the center of a metal pendant shaped like a flower, or by placing cluster of gems around the diamond in such as way as to make it look like a flower. This look is very effective if you want an unusual, stunning, delicate, and eye-catching way to memorialize your loved one.
Bezel, channel, or halo settings allow you to take a simple diamond and turn it into something that is as unique as is your love for the deceased.
A simple diamond hanging from your pendant necklace might be a little too simple for you. Or, you may be looking for something that is more unique. To this end, you may wish to consider a bezel, channel, or halo setting. The bezel setting encases all but the top of the diamond. The channel settings place it within a channel instead of prongs, and a halo setting sets beautiful gems around the diamond in order to highlight its beauty. All of these settings retain the signature beauty and appeal of the diamond in a beautiful way.
Regardless of which type of pendants for necklaces you select, the key is to choose something that you will love and want to wear forever. When you find the right setting, you will feel the confidence of knowing that you have created a beautiful and lasting memorial to a beautiful life.