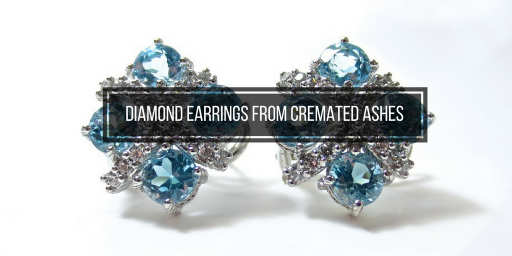 Last revised: March 19, 2019
These 5 cremation earrings, made with a diamond from Heart In Diamond, pay tribute to your loved one in memorable and unique ways.
Death has always given rise to memorials. From huge, commemorative monuments constructed to remember those lost during wartime to small, personalized tributes such as poetry, jewelry or tattoos and demonstrative events such as the teacher who ran the Boston Marathon on behalf of grieving students, these remembrances serve a valuable purpose in mitigating people's grief.
Jared, a #WinchesterMA teacher, runs the #BostonMarathon to honor grieving students. Support him @crowdrise. https://t.co/i5CRG6CTX4 pic.twitter.com/SzNPtCf3xS

— The Children's Room (@childrensroom) Jan 2, 2017
Utilizing this kind of symbolism gives families a tangible way to deal with their sadness. They have a physical place to visit, a physical object to hold or beautiful words to read whenever their grief feels unmanageable and this can enable them to remember their loved one and happier times forever.
Remembrance jewelry, in particular, captures the beauty and memory of the deceased loved one for the long term. When cremation is used, the ashes can be transformed into a memorial diamond. This diamond becomes the centerpiece of a necklace, bracelet or earring and serves as a permanent and precious reminder of the deceased.
Heart In Diamond cremation earrings, a type of funeral jewelry, are ideal for remembering loved ones in a unique manner.
When you think about how to showcase a gem as precious as a memorial diamond, you may initially think about a cremation ring or a cremation necklace. For instance, very few types of commemorative jewelry is as meaningful as a diamond necklace worn close to the heart.
While cremation earrings are not always as flashy or as common as rings and necklaces, they have the power of the unique and unusual on their side. They allow you to embrace shapes, materials and meanings that perfectly capture the unique presence the deceased person maintained in your life.
What follows is a look at five different types of cremation earrings that you can have made with a Heart In Diamond diamond. These earrings allow you to pay tribute to your loved ones in unique, yet perfect, ways.
A brilliant, round white diamond, mounted in a titanium stud is a classic, yet bold, tribute to the deceased.
A brilliant, round cut diamond, specially made with the right proportions, is designed to sparkle. Its 58 facets reflect the light in dozens of directions, so that even a small jewel catches the eye. The brilliant shape, especially in white, is also a classic form of cut which communicates stability, tradition and beauty.
When placed in a titanium stud mount, the resulting cremation earring takes the memorial piece to another level. Now the diamond catches the eye in a classic way, while the titanium stud communicates boldness, strength and resiliency. It is a combination that can surprise and impress, while capturing the essence of your loved one's memory.
A brilliant, round blue diamond in an infinity mount communicates the eternal nature of one's memory of the deceased.
Some loves are never meant to end and memories should be everlasting. If you feel this way about your deceased loved one, a brilliant, round blue diamond in an infinity mount might be the perfect cremation earring for you.
Both the color blue in a diamond, as well as the infinity shape, communicate permanence and eternity.
When you wear a pair of gorgeous infinity earrings (whether mounted in sterling silver, gold or another type of metal), your stunning, circular blue diamond sparkles with the message that you will never forget your deceased loved one and the place they hold in your heart.
A radiant cut, yellow-green Heart In Diamond gem in a halo mount is ideal for capturing a loved one's vibrant personality.
The radiant cut, with its facets adorning every part of the square diamond, is made to catch the eye with its brightness. The sunshine and youthfulness of the yellow-green diamond adds to this sense of vibrancy and rare beauty.
In addition, a halo mount assists in drawing attention to the eye-catching beauty of the diamond. The many tiny diamonds surrounding the larger center diamond reflect light back onto the star of the earring. An added advantage is that the halo mount can be customized at will to allow for a personalized piece of cremation jewelry that honors a beautiful, vibrant and unique personality.
A radiant cut, blue Heart In Diamond gem in a cluster mount is ideal for remembering a bold and beautiful personality.
Similar to the halo mount, a cluster mount earring uses a number of diamonds working together to create a stunning piece of jewelry. Unlike the halo mount, these diamonds tend to be about the same size and to appear in a bunch instead of focusing attention on the larger diamond.
The permanence of the blue color, the bold brightness of the radiant cut and the eye-catching cluster of diamonds in the mount itself are ideal for remembering a loved one whose boldness and brightness made a permanent impression on your life.
Tiny round cut, orange-yellow earrings in a hoop mount
The boldness of the hoop earring combined with the brightness and delicacy of tiny orange diamonds communicates a unique and beautiful personality. You can have several tiny diamonds made from the deceased's cremains, or add to the memorial diamond with other diamonds. Whatever you choose, the result is a wonderful choice for honoring a bold and unique personality, whose vibrancy you want to remember forever.
Memorials211 quoted Terry Pratchett in 'Going Postal' when they tweeted, "Do you not know that a man is not dead while his name is still spoken?" Memorial diamonds help to keep the memory and name of your loved one alive by turning their ashes into beautiful diamonds. When worn as an earring, these gems serve as a one-of-a-kind way to pay tribute to those whose presence in your life was equally beautiful, powerful and unique.
"Do you not know that a man is not dead while his name is still spoken?"
― Terry Pratchett, Going Postal – #quote #death #remembrance

— Memorials 211 (@Memorials211) Jan 9, 2017