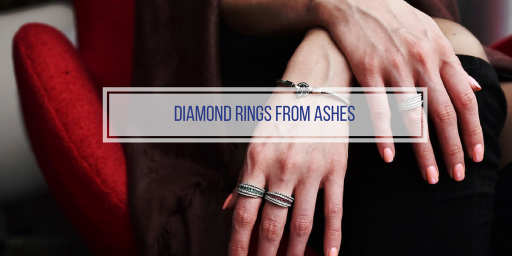 Last revised: April 19, 2018
Rings Made from Cremation Ashes Come in a Variety of Styles that Will Make Your Diamond Shine
Rings made from cremation ashes, or, more specifically, rings that showcase diamonds made from cremains, all serve one purpose: To memorialize the deceased. The hope is that the unmatched beauty of the ring will accurately reflect the unmatched beauty of the beloved friend or family member's life. It is meant to be a way of remembering the one who has gone and of keeping their memory close.
However, this goal cannot be achieved with just one type of cremation ring, because every person, and every cremation diamond meant to honor them, is unique. With 5 colors, 9 sizes, and numerous cuts from which to choose, grieving friends and family members can tailor make a jewel that fits both their style preferences and the memory of the deceased.
In order to properly showcase this wide variety of diamonds, you need a wide variety of styles from which to choose. Here is a look at just some of the ways certain styles can influence the look of a ring made from cremation ashes.
A simple cremation ring will turn the diamond made from cremains into the focal point of the jewelry.
Certain ring styles, such as the solitaire with its single diamond standing out from a basic band, turn the diamond into the focal point of the ring. In general, the simpler the ring, the more the diamond stands out. For example, a solitaire with a plain band will showcase the diamond more than will a solitaire that has a band encrusted with smaller jewels.
A simple ring style allows the diamond made from the ash of the deceased, and the memories it contains, to be the star of the memorial jewelry. There are no distractions from the message you want to send with your ring: That your jewelry is all about honoring the memory and the life of someone special.
A halo ring will emphasize the size and radiance of the cremation diamond, allowing your memorial jewelry to make a bigger impact.
The halo ring setting features a cluster of smaller gems surrounding the center diamond. This type of remembrance jewelry can emphasize your diamond in a different way from a simple ring style: By making it look larger. In general, it will make your diamond of a certain number of carats look up to half a carat size larger (i.e. A .5 carat diamond could look as large as a 1-carat diamond in a halo setting).
In addition, a halo ring, despite the presence of surrounding crystals, actually directs attention toward your cremation diamond. The reflection of the light off of the surrounding diamonds points toward the center gem. As a result, the halo ring setting can help you to make the most out of a smaller diamond, allowing your ring to accurately reflect the impact of the deceased person's life on your own.
A modern ring setting will give your diamond a timeless look that reflects the timeless beauty of the beloved lost one's life.
There are many types of modern ring settings, from shoulder settings to clean lines to pave settings to tension settings. What they all have in common is a tendency to minimize or do away with intrusive prongs and instead make the diamond an effortless and natural part of the ring.They create an elegant look that, while distinctive, is not flashy.
As a result, a modern ring made out of cremation ashes provides an elegant and sophisticated way to remember a well-lived life. Its simple but forward thinking beauty, along with a design that will never go out of style allow your cremation diamond to fit seamlessly into your funeral jewelry.
A vintage ring setting will give your ring made from cremation ash an old-fashioned look.
Finally, if you want your diamond to look a little bit older, you may want to consider a vintage ring setting. This type of setting is usually more intricate than the other types of settings. For example, the metal might include engravings or intricate arrangements of stones. As a result, it makes your diamond look more elegant and older, giving it the kind of look that you want to commemorate a life you want to remember forever.
Rings have always carried great significance, and the style of ring you choose for your cremation jewelry will impact how your diamond made out of ash looks. And this look can reflect the life and the personality you want to remember. Whether you choose a modern setting with white gold or silver, or select a vintage style made out of yellow gold to complement your yellow gem, you can find a setting that will suit your diamond and the person you are memorializing. And that can mean that your cremation jewelry becomes a fitting monument to a life well lived and a person well loved.