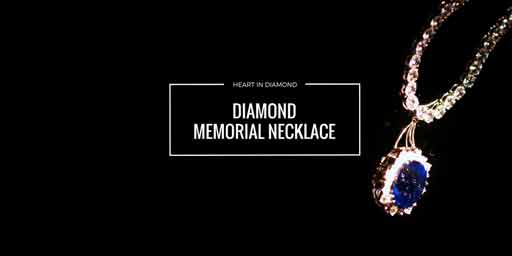 Cremation jewelry necklaces from Heart In Diamond are changing the way you remember deceased loved ones.
For more than 400 years, jewelry has been combined with loved ones' remains to create meaningful memorials to the deceased. Heart In Diamond's beautiful cremation jewelry continues this tradition in a fresh and beautiful manner.
According to Meredith Woerner, Funeral jewelry, also known as mourning jewelry, has been around since the 1600s. Originally, these necklaces and rings incorporated hair from the deceased loved one, although nails, blood or skin were also sometimes used.
For example, blood droplets might be encased behind two pieces of glass and hung on a necklace; hair would be used to paint intricate pictures on a ring, or hair or skin might be encased in a pendant. Native Americans would use strings of beads called wampum in their memorial rites after a death. @RiffRaff_Gentry shared a blog post on the topic of mourning jewelry on Twitter:
Check out my new blog post about VICTORIAN Mourning jewelry made from HUMAN HAIR #victorianera https://t.co/iMhlk5q3WJ

— Vintage Fashion (@RiffRaff_Gentry) Dec 5, 2016
A famous example of early remembrance jewelry was the mourning ring Queen Victoria wore memorializing the death of her husband, Prince Albert. Queen Victoria wore both mourning clothes of black and the ring for the rest of her life as a way of remembering her husband.
While these were meaningful tributes to the deceased, the original commemorative jewelry tended to be dark (typically black) and only worn during the mourning period. Today, Heart In Diamond offers the chance to keep the memory of your loved ones close always, by making cremation jewelry that is both beautiful and practical enough to be worn all the time.
Cremation necklaces in particular offer a way to keep the memory of a deceased loved one close to your heart using a Heart In Diamond gem.
Today, cremation jewelry, especially the cremation necklace, has changed significantly from its beginnings a few centuries ago. You can find many types of cremation jewelry in a variety of different styles to suit both the memory of your loved one and your own personal taste.
In particular, cremation necklaces allow you to remember the deceased in a beautiful and personalized way. What makes many of these necklaces stand out, is the fact that you can incorporate a gem from Heart In Diamond to make them beautiful memorial diamond necklaces.
These diamonds can be placed into almost any kind of necklace. This means that whether you use the diamond alone or adorn the necklace with other gems (such as pearls, crystals, etc.), your Heart In Diamond diamond allows you to keep your loved one's memory close to your heart and in your mind every time you wear it.
These examples of cremation necklaces demonstrate how using a Heart In Diamond diamond in the necklace style of your choice can help you remember your loved one.
Here is a look at the most common types of necklaces and how you can turn them into commemorative jewelry using a Heart In Diamond gem.
Chaplet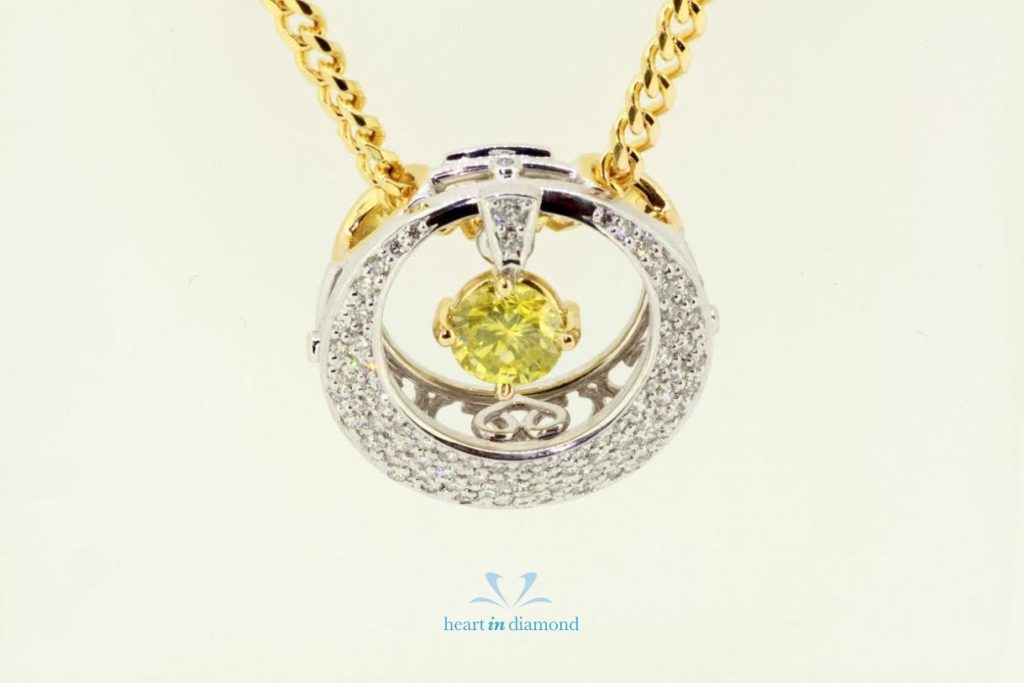 A chaplet is a necklace that serves as a rosary, with the beads of the rosary making up the adornment of the necklace. Often there is a cross at the end of the necklace. A chaplet can incorporate a Heart In Diamond gem by placing it where the prayer to the Hail Holy Queen marker is normally located. At other times, the jewels are placed at intervals around the chaplet, separating the markers that represent the various prayers of the rosary.
Necklet/Choker
A necklet, also known as a choker, sits against the neck of the one wearing it. It can be turned into a fitting memorial through the use of a Heart In Diamond gem. After cremation, the ashes can be turned into a diamond (or diamonds) consisting of as many carats as you wish. The jewel(s) are then fitted onto the center of the necklet. The diamond(s) can be accented with glass, pearls, crystal or other diamonds and often, the jewelry chain of the necklet is woven into a beautiful pattern.
Princess Necklace
The princess necklace sits at the collarbone of the wearer. They can be quite ornate, made of gold or silver and adorned with large gems and intricate designs. Alternatively, they can be simple statements of your love for the deceased, displaying a single memorial diamond from Heart In Diamond.
Matinee Necklace
The matinee necklace sits just below the collarbone. While it can be dressed up for a business meeting or for a night out, it is also perfectly suitable for daily wear. The addition of a Heart In Diamond gem can make it an ideal way to carry the memory of your loved one everywhere with you.
Opera Necklace
A longer type of necklace is the opera necklace. It often contains multiple chains and either jewels all along the chain(s) or a large statement piece at the end of the chain. Often, pearl necklaces are opera length. Adding a large Heart In Diamond gem to this chain can help you to remember your deceased loved one in a stunning manner.
Rope Necklace
A rope necklace sits below the breastbone. These necklaces tend to be made of thick ropes or braids of silver, gold or other metals. They traditionally do not come with many jewels or adornments. They can incorporate diamonds, however, often at the center of the jewelry or embedded into the rope of the necklace.
Locket or Pendant Necklace
Instead of adding the ash from a deceased loved one's remains, you can turn your Heart In Diamond gem into a pendant. Folding the diamond into a variety of shapes and forms can help you to capture the unique beauty and personality of your loved one in a style you will love and want to wear over and over again.
No matter which type of necklace you choose, incorporating a Heart In Diamond gem can help you turn an already beautiful piece of jewelry into a fitting remembrance of your loved one that you can wear whenever you want their memory close to your heart.