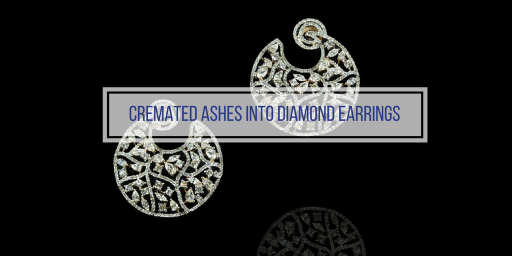 Last revised: March 19, 2019
Ashes into Earrings: This Is Why Cremation Earrings Are a Beautiful Choice for Remembering Someone Precious
The death of someone precious can awaken in us a desire to keep them and their memory near. This is why cremation jewelry is popular among the bereaved: It allows them to keep a small piece of their loved one close in a form that is as beautiful as that loved one's life was.
With a cremation diamond, that loved one's cremains (the ash left over after their incremation) can become itself a gorgeous and permanent gem that will remind everyone who wears it about the beloved life it represents.
When it is time to choose the setting for this diamond, you want to create a piece of cremation jewelry that properly showcases the beauty and meaning of your jewel. In these cases, turning ashes into earrings has a certain symbolism and beauty that often makes it the perfect choice for remembrance jewelry.
Earrings have historically communicated certain messages, making cremation earrings the perfect way to convey the message of your love for the deceased.
Throughout history, earrings have been used as potent symbols to communicate a person's wealth, social status, ethnic identity, age, marital status, and more.
The exact significance of the earring depended very much upon the culture. For example, in the ancient Israelite culture (and others), a pierced ear was reserved for slaves, while in other Middle Eastern cultures, as well as Greece, Rome, and Persia, earrings were worn by the wealthy and powerful.
During the Middle Ages, when earrings were banned by the church, wearing one became a symbol of defiance limited to outlaws such as pirates and thieves, as well as a symbol of the lower class. At times, earrings were worn to indicate marital status, or by men to indicate their place in the family line (i.e. Two earrings meant that the man wearing them was the last of his family line).
Today, earrings can still be used to send a message. The style of the earring, for example, communicates your personality (i.e. flirtatious or reserved, elegant or down to earth). Turning ashes into earrings is a way to capture the earring's ability to symbolize and use it to preserve the memory of your deceased loved one.
By creating an earring using your cremation diamond, you create a piece of cremation jewelry that is a natural vehicle for conveying the love you have for the deceased and the beauty and meaning of the life they lived. Consider, for example, communicating a delicate and unique life through snowflake earrings, or a dazzling personality through a halo setting.
You can then further personalize this unique remembrance with your choice of setting and accompanying jewels, allowing your earring to be a rich symbol of a rich life.
Earrings have also always been used as beautiful accessories. Their signature beauty makes them a good choice for memorializing the life of the deceased.
Besides their symbolic use, earrings have also always been used as decorative accessories meant to add beauty to the wearer's (especially a woman's) outfit. This is one of the reasons that jewels and crystals have traditionally been an integral part of earrings: They communicate wealth and add elements of beauty.
Today, earrings come in hundreds of shapes, sizes, and styles to complement anyone's face shape, complexion, outfit, and personal preferences. For example, you can choose dangly gold earrings to add an element of flirtatiousness during a night out on the town or simple stud earrings to accompany a more practical and down to earth outfit for a business meeting.
Regardless of the style you choose, however, the goal of wearing earrings is the same as it has been throughout the centuries: To catch people's eye by adding interest and beauty. When it comes to creating something in tribute to a deceased friend or family member, you want to catch people's attention because you want the chance to remind them about the one who has died. You want their memorial to stand out just like their lives stood out to you.
That is one reason people choose a cremation diamond: There are few more beautiful memorials than a sparkling gem. The sadness of death is softened by the stunning beauty of the diamond, while the gorgeous nature of the person's life is captured perfectly in the diamond's facets.
When you turn ashes into earrings, you can further accentuate this beauty in a gold or silver setting that is itself beautiful and unique. When you choose to make ashes into earrings, you choose to incorporate your loved one's remains into a form whose beauty will fittingly honor your precious loved one. And, when that beauty gets people's attention, you have the chance to honor your loved one by sharing your memories of them with another.
Cremation earrings can be worn by both men and women.
It can, at times, be difficult for men to find a way to wear cremation diamonds. Necklaces and rings, for example, often become feminized when diamonds are added (In particular, diamond rings are almost universally associated with engagement rings for women instead of memorial rings for men). For men who wish to wear jewelry in honor of a loved one, it can be hard to find a piece of cremation jewelry that will work for them.
Cremation earrings, however, can be worn by both men and women. Over the centuries, earrings have often been worn by men to communicate their wealth, social status, marital status, or status within a family. In many cultures, earrings have always been an acceptable accessory for men.
Similarly, men can today wear an earring successfully. While the styles are different (for example, a man should generally limit himself to stud earrings), the inclusion of a diamond does not detract from the earring's suitability for a man. As a result, men can find a masculine style that suits their personality and honors their loved one when they choose to turn that loved one's ashes into earrings.
Turning ashes into earrings means adopting the symbolism, beauty, and versatility of earrings as a way to create a beautiful memorial to a deceased loved one. With the right style, you can communicate your love and their life, capture their beauty, and create a piece of jewelry that you can wear confidently, no matter your gender or your style preferences. And that means that it becomes easier to honor a loved one with cremation jewelry crafted from a cremation diamond.