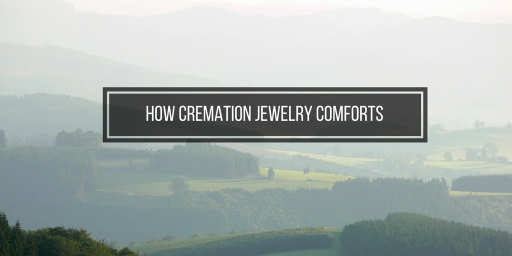 Last revised: March 19, 2019
Turning Ashes into Jewelry: The 4Cs Behind Cremation Jewelry's Emotional Value
If you know anything about diamonds, you know about the 4Cs of cut, color, clarity, and carat weight, which are used to describe the physical characteristics and the overall quality of the gem. Knowing what the 4Cs are for a diamond helps you to determine its monetary value.
Understanding the emotional value of a cremation diamond means looking at another set of 4Cs: commemoration, comfort, closeness, and continuation. This set of 4Cs can give you a clearer understanding of why memorial jewelry (such as a cremation earring, cremation necklace, or cremation ring) is such a precious way to remember a loved one.
Read about cremation jewelry here
Commemoration
When a loved one dies, there is a natural desire to hold onto them. In fact, denial is often the first stage of grief, as you instinctively protect yourself against the devastating news by refusing to believe your loved one is gone.
Even after denial fades away and the reality of loss sets in, most people want to continue remembering the deceased. In fact, the word "closure," a frequently-used word in grief counseling to describe moving on from a loss, is often roundly rejected by mourners as an impossible standard for healing. The grieving individual cannot simply close the chapter on their relationship with the one who has died.
William Worden understands this need for remembering the deceased. That is why he describes the final stage of grieving not as closure but as creating an enduring connection to the deceased that allows you to continue living your life without forgetting about them.
Funeral jewelry that incorporates a memorial diamond allows friends and family to commemorate their loved one in this type of meaningful and freeing way. They can laugh with new friends while carrying the memory of their best friend in the ring on their finger, or go back to work wearing a necklace with the diamond made from their spouse's cremains. The diamond becomes a tangible reminder of their loved one that allows their memories of the past to live alongside their future.
Comfort
Comfort, when used in the context of grief, is the easing of the grieving individual's sadness. Many people think of the word as meaning "to make them feel better," either physically or emotionally. When someone we know is grieving, it is natural for us to immediately try to comfort them with positive words, meals, physical contact, and so forth.
However, comfort can be hard to come by in the midst of loss. Positivity and encouragement might not mean much to someone who is facing the permanent loss of a loved one. Instead, the best methods of comfort are often the tangible ones. Running errands, bringing meals, cleaning house, or listening attentively can bring comfort in a way that encouraging words cannot.
A piece of remembrance jewelry is often one of the most tangible and therefore effective ways to offer comfort to a grieving individual. Part of the reason that turning ashes into jewelry is so comforting is because it allows the grieving individual to keep their loved one close to them even after their death.
The pain of loss is mitigated because the grieving individual does not have to leave their loved one in a grave or their cremains in an urn. Instead, the grieving individual has a way to look at, touch, and remember their loved one whenever they need a way to ease their grief.
Closeness
As mentioned earlier, the urge to hold on to a dead loved one is a natural response to loss. By memorializing the deceased in some way, we can symbolically hold onto them by keeping their memory alive.
Turning a loved one's ashes into jewelry, however, provides more than a symbolic preservation of the loved one's memory. It allows you to actually keep some of the remains of your loved one in a beautiful form.
As a result, the gem created from the deceased's ash is a way to maintain some of the closeness you desire after a devastating loss. You can wear their diamond close to your heart in a cremation necklace, or keep it on your finger with a cremation ring.
This closeness, as mentioned above, allows you to feel comforted regarding their death, and encouraged to continue with your life because you do not have to leave your deceased loved one behind.
Continuation
Finally, cremation jewelry offers a unique emotional value, because it allows for the continuation of the loved one's memory. When you choose to have a loved one's ashes turned into jewelry, you choose to have their incremation turned into something beautiful and lasting.
If you bury their ashes, or place them in a crematorium, eventually someone may forget they are there, or stop visiting the site. The headstone might wear away. If you move, you might not be able to take your loved one with you.
However, when you turn ashes into jewelry, you end up with something that is beautiful and easy to bring with you wherever you go. The jewel itself will last for generations, thanks to the durability of the diamond. In addition, because it is a beautiful and functional piece of jewelry, you can easily pass it on through the generations. As a result, you enjoy a continuation of your loved one's memory that can withstand the test of time.
Turning ashes into jewelry is a beautiful and meaningful way to deal with the death of a loved one. The resulting necklace, ring, or earring can offer you the commemoration, comfort, closeness, and continuation you need to move on after a devastating loss. As a result, cremation jewelry offers a far mroe valuable emotional meaning than a regular piece of diamond jewelry: It is literally shot through with the memories and presence of your loved one.