Why cremation is gaining popularity in the USA
No doubt about it, cremation popularity is on the rise in the United States. Statistics paint the picture that cremation preference now tops over 50 percent, and it's become the new national "tradition".
This statistic came from the Cremation Association of North America's (CANA) website. Other interesting facts are found on that page, including the following three:
From the time cremation was legalized in 1876, it took 100 years for it to reach five percent in 1976.
Since this 100-year marker — the popularity of cremation has experienced steady growth.
In 2016, the US cremation rate was 50.1 percent and it is projected to grow to 56.3 percent by 2020.
If you want to inspect the latest statistics concerning the popularity and use of cremation in North America, check out this infographic PDF available for download from the CANA website.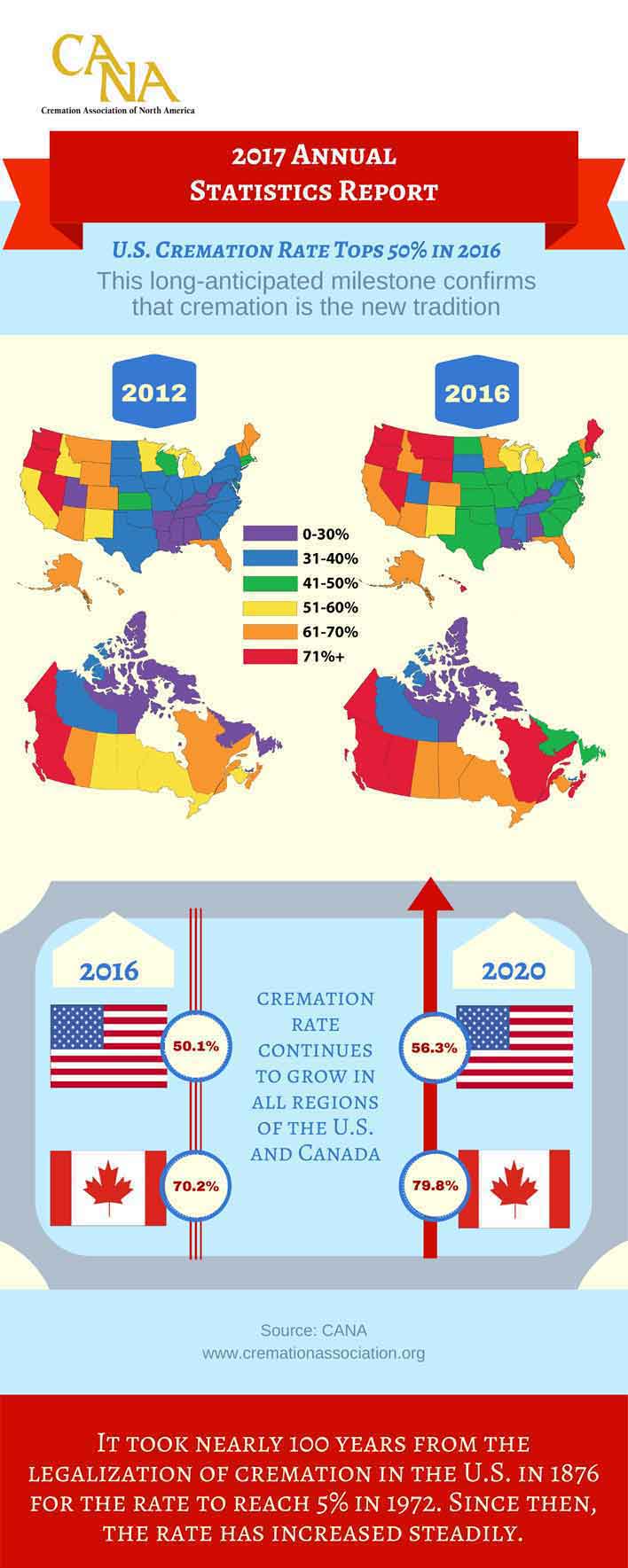 Why is the popularity of cremation on the rise?
One of the first questions you may have concerning cremations in the United States might be:
"Why is the popularity of cremation rising?"
Several reasons immediately come to mind that may account for the increase, including:
Cost (cremation is much more affordable than a funeral)
While the price factor is one of the top reasons people choose cremation, certainly it's not just the price tag that's appealing, rather the overall value. We dug deeper into the subject and reached out to an expert in the industry. Barbara Kemmis, the executive director for the Cremation Association of North America, weighs in on the cost factor, and explains the sense of value:
"Price is the most often cited reason for choosing cremation, however plenty of cremation families spend money on cremation memorialisation. The response may be more rooted in a sense of value. In other words, a cremation family seeks value in a personalized memorial."
Space considerations (cemeteries are running out of burial space)
Looking at cemeteries within the United States, some of the country's biggest cities are finding themselves running short on burial space. Fast.
In fact, this land shortage will leave many of these burial grounds out of the room needed for more burials. One such example is that the Arlington National Cemetery is projected to be out of burial space by 2041. Others are searching for options to maximize space and make room for more bodies. An example of this is the city officials in Boynton Beach, Florida who implemented changes to allow room for 300 additional burials.
Change of values (people are becoming more liberal towards cremation)
In the United States, the general attitudes and beliefs surrounding cremation are changing. Religion is becoming less prevalent in the average American home, especially among millennials. In fact, a Pew Research poll found that Americans, especially millennials, are moving further away from religion altogether. The following three statistics are from the Pew study:
The percentage of Americans that state being "absolutely certain" that God exists dropped from 71 percent in the 2007 comparable poll to 63 percent in 2014.
The percentage of American adults that would describe themselves as being "religiously affiliated" has receded six points from 83 percent in 2007 to 77 percent in 2014.
Over the seven years from the 2007 poll to the 2014 poll, the shares of United States adults that consider religion to be "very important" and pray daily and attend services at least one time in a month has dropped by three to four percent.
A cultural shift away from religion is not the only attitude-change towards cremation. In the past, many religions, such as Catholicism, held very strong positions against cremation. However, this has largely changed and many religions are now accepting of this practice. Budgetary considerations may have influenced this shift in doctrine.
Cremation creates a new avenue for memorialising a loved one and passing down family traditions. Barbara explains that "many families choosing cremation are creating new traditions in their families. They know what they don't want, but are seeking to create something new."
Will the popularity of cremation continue to rise in the short and long-term future?
Reports show that cremation rates are projected to continue to rise, at least in the short-term future.
What about long-term? How popular will cremation be in the United States 20 or 30 years down the road?
Barbara Kemmis explains:
"The cremation rate has risen across the country at about 1-2 percent nationally. Cremation gained popularity earlier on the west coast and in Florida, so we are watching those states to see evidence of a plateau in growth. There is no evidence that cremation growth will reverse or slow until that plateau is reached."
At what level should we expect to see a plateau? On the official CANA website, it's explained that "we are currently in a period of rapid growth that will peak around 60 percent and then begin to slow until it reaches an eventual plateau." We will watch the trend and continue to report on the popularity of cremation.