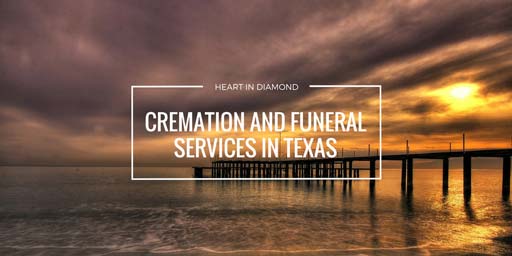 Table of contents:
Top 10 Cremation/Memorial and Funeral Service Providers in Texas
What type final arrangements will I need for my loved one? How will the funeral home or crematory care for my deceased family member? What type of ceremony will best honor the memory of my loved one?
Planning a funeral or cremation for a loved one is a major life event and many important details must be taken into consideration. Therefore, it's so important to use a funeral provider or cremation service that you can trust when making these final arrangements. Everplans, a company that offers digital archives to hold important personal information in case someone dies, sums up the chaos and confusion immediately following death in their article, "10 Things to Do After a Death":
"It's a difficult time, emotions are raw and there's a lot to organize."
But where do you go to find a trusted cremation/memorial or funeral service provider in the state of Texas?
At Heart In Diamond, we turn cremated remains and hair into stunning diamonds and regularly work with team members from the death care industry. Therefore, we know exactly what to look for when it comes to finding a good funeral home or crematory in Texas. To better serve the public, we have taken the guesswork out of this confusing decision and created a list of exceptional cremation/memorial centers and funeral homes in Texas. In no particular order, here are our top ten recommendations:
1. Restland Funeral Home
Restland Funeral Home is the general name that encompasses a multitude of businesses, including: a crematory, a funeral home, a cemetery, a mausoleum, and a florist. The reputation of Restland Funeral Home has been established on three basic principles:
Providing the opportunity for family members to create a ceremony or memorial that is just as unique as the person who passed away, Restland Funeral Home has been helping people celebrate the lives of their loved ones for many years. Their website offers a visualization tool that allows visitors to explore memorial possibilities. Restland Funeral Home serves the greater area of Dallas, Texas.
2. Golden Gate Funeral Home and "A" Crematory
Golden Gate Funeral Home provides services to the areas of Dallas, Fort Worth, and Tallulah, Texas. This funeral home has decades of experience and was established in 1980 by Mr. John E. Beckwith Sr. in Waxahachie, TX. This funeral home and crematory is quite busy, and they humbly serve more than a thousand clients per year. Many of their past clients have positive reviews of this company, including Patience Byrd whose Google review reads:
"Thank you Golden Gate FH staff for doing such a great job in burying my loved one. Your professionalism showered my family with love the moment we walked in your doors."
3. Greenwood Funeral Homes and Cremation
Serving Fort Worth from their three locations and a location in Arlington as well, Greenwood Funeral Homes is one of the most trusted funeral, cemetery mausoleum and cremation service providers in North Texas. They offer the community many services, including:
Funerals and tributes

Cremation

Pre-planning

Sympathy gifts and flowers
They have been a gathering place for the community for more than 100 years and they are considered a trusted place to celebrate and honor the memories of the deceased.
4. Lumberton Family Funeral Home, LLC
Providing comfort for families even after the funeral is complete, the Lumberton Family Funeral Home offers a sign up on their website to receive daily grief support for an entire year. This funeral home serves the Lumberton, Texas area.
Providing 24-hour support, this company welcomes calls anytime day or night, and promises to guide families through the tough decisions that need to be made in their most difficult hour. The reputation for this funeral home on Google is impeccable with a perfect five-star rating from the 14 reviews left on the platform.
5. Claire Brothers Funeral Home
Providing services to the communities of Greater Houston and Southeast Texas, Claire Brothers Funeral Home is locally-owned and family-operated. Their services cover the following counties:
Brazoria, Chambers

Colorado

Ft. Bend

Galveston

Harris

Jasper

Jefferson

Liberty

Montgomery

Orange

San Jacinto

Walker

Waller
Their number one goal is to provide high-quality affordable funeral and cremation services to the public.
6. Lake Shore Funeral Home & Cremation Services
Serving the community of Waco, Texas, Lake Shore Funeral Home is family-owned and operated. They provide cremation, funeral, burial, and pre-planning services. They are a compassionate company with the following mission:
"Our mission is to offer extraordinary value to our guest families, unparalleled quality care of the deceased, and consistently provide meaningful experiences for family and friends. Our professional, friendly, family staff always strives to better our community through education and licensed grief support."
7. Miller Funeral Service & Cremation Society of Texas
Family-owned and operated, the Miller Funeral Service & Cremation Society of Texas is a funeral and cremation provider serving the greater Houston area. They specialize in full-service funeral needs, including:
Traditional funeral services

Graveside funeral services

Memorials

Celebrations of life services

Cremations
8. Seaside Memorial Park & Funeral Services
The staff at Seaside Memorial Park & Funeral Services is committed to offering the grieving an actual home, a comforting and inviting place to remember and celebrate the lives of those who have passed on. Seaside Memorial is happy to serve the area of Corpus Christi, Texas with their decades of combined experience.
9. MeadowLawn Funeral Home, Crematory, Cemetery
MeadowLawn Funeral Home is a licensed funeral home facility that has two licensed crematories and a licensed cemetery which is located on the southeastern side of San Antonio. Many of their previous clients have left positive reviews about their business, such as this one from Joseph Rico:
"The staff at Meadowlawn are Professionals with 'Attention to Detail'. Even now my Mom & I haven't forgotten the care we received concerning my Dad. My wife & I have designated our Family's (pre-planned) needs with Meadowlawn."
10. Sunset Funeral Homes
Sunset Funeral Homes has three locations serving El Paso, Texas. At Sunset Funeral Homes, they focus on more than just providing death care services to the public, they create healing experiences in the community. They have built their solid reputation on quality, sincerity, and trust.