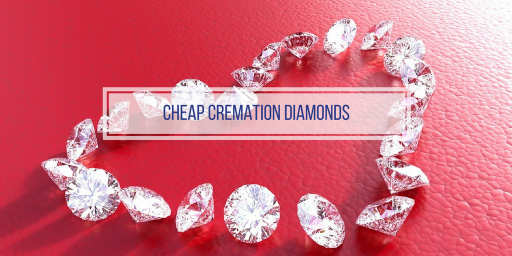 Last revised: December 28, 2018
Cheap Memorial diamonds: Here are 12 reasons that they are cheaper than any other cremation option.
Diamonds are known for their sparkle, their brilliance, their beauty, their hardness, their symbolism…and their price. Since as early as the 4th century, diamonds have been considered valuable.
In light of this perception, it makes sense that people looking for an inexpensive way to memorialize a deceased loved one might overlook diamonds. Just the term "remembrance diamond" might conjure up unattainable dollar signs in their minds.
The truth, however, is that turning ashes to diamonds is not as expensive as you may think. Low-cost ashes to diamonds is possible. And, memorial diamonds are among the cheapest options when compared to many other alternatives for using cremains. Here are 12 reasons that memorial diamonds are so affordable:
Reason 1: The market price of lab-grown diamonds is significantly lower than the market price of natural diamonds.
Often, the perception of diamonds as expensive is based on the cost of natural diamonds. Lab-grown (also known as synthetic) diamonds, however, cost up to 30 percent less. At the same time, they are real diamonds, with all of the same properties as natural diamonds. This means that you can purchase a funeral diamond for significantly less than you could purchase a natural diamond of the same size, color, and clarity.
Reason 2: Heart In Diamond gems are less expensive than any other memorial diamonds on the market today.
We keep the price of ashes to diamonds lower than anywhere else in the cremation diamond industry by owning our own production facilities. As a result, we do not have to pay to send your loved one's ashes out for processing. The result? Less expensive gems. For example, our blue half-carat round diamond costs more than $100 less than you might pay elsewhere. An added bonus: You never have to worry about your loved one's ashes getting lost in transit
Reason 3: Lots of flexibility in your cremation diamond cost means you can find a price of ashes to diamonds that fits your particular budget.
One of the advantages of lab-grown diamonds is the fact that you can determine how large you want the gem, what color you want it to be, and what cut you want it to have. With five colors, nine sizes, and multiple cuts available to you, you can create the cremation diamond that fits not only your memory of your loved one but also your budget.
Reason 4: The availability of more than 500 jewelry settings means you can choose the setting that both honors your loved one and fits within your budget.
Here at Heart In Diamond, we offer you more than 500 jewelry settings from which to choose. Each of these settings comes with a different price tag. This means that you can choose a setting that perfectly captures the memory of your loved one, and that does so within your budget.
Reason 5: The availability of payment plans makes it possible for even small budgets to handle the cost of a memorial diamond.
Not every option for taking care of the deceased comes with a payment plan. And sometimes, families who cannot afford the upfront cost of a funeral, cremation, memorial, etc., need to take out a loan to cover the cost. However, through us, memorial diamonds are available with a payment plan. With a 25 percent down payment, and 12 or 24 equal monthly payments, you can spend as little as $62 a month on a cremation diamond.
Reason 6: The ashes to diamond cost is cheaper because it includes a single up front price.
Some uses for cremains seem, at first, to be less expensive than the price of turning ashes to diamonds. For example, scattering your loved one's ashes might initially seem inexpensive. These options, however, often come with unexpected costs. For example, when scattering ashes, you will need to pay for the funeral home services (which often themselves come with multiple additional expenses), the casket used in the cremation, the cremation itself, transportation, travel to your designated scattering spot, and so forth. Memorial diamonds come with no such unexpected expenses to drive up their final price.
Reason 7: Consultants can help guide you toward the diamond and jewelry settings that best memorialize your deceased loved one.
Choosing a cheap ashes to diamonds option is easier than finding a cheap ashes to memorial option elsewhere, because you have help to do it. In the midst of grief, it can be difficult to think about your options. Our consultants, however, help you to find the perfect blend of cost and style so you can honor your loved one in a way you will never regret, financially or otherwise.
Reason 8: The creation of memorial diamonds involves fewer steps and, therefore, fewer costs, than the creation of other cremation memorials.
Some options for dealing with ashes look less expensive at first than cremation diamonds. For example, a columbarium may initially seem less expensive than a memorial diamond. The cost for a grieving family to inter a loved one in a columbarium is often less than $1,000 (though it can run upwards of $2,000). However, this option involves many additional steps that each cost money as well: The cost of the cremation, the funeral services, the urn, or any ceremony you want to conduct. When all of those other expenses are factored in, a memorial diamond often comes out cheaper.
Reason 9: Memorial diamonds tend to be less expensive than a traditional funeral and burial.
The cost of a cremation diamond is even more affordable when compared to the cost of a traditional funeral and burial. At an average of $10,000, a funeral can be quite pricey, even if you opt for the least expensive casket, funeral home, burial site, and so forth. On the other hand, a cremation plus the cost of turning ashes to diamonds typically costs less than $9,000 (and can cost as little as about $2,200).
Reason 10: Memorial diamonds have the advantage of being unique without the price tag that often accompanies other unusual ways of memorializing a deceased loved one.
Often, when people are dying, or when a loved one of theirs is dying, they want to embrace a unique way of memorializing their unique lives. Doing so, however, often comes with a hefty price tag. For example, shooting cremains into orbit can cost almost $5,000, while shooting them into deep space can cost more than $12,000. On the other hand, a memorial diamond has the advantage of being unique (there is no other diamond out there exactly like the one made from your loved one's cremains) while also being affordable (it is possible get a cremation diamond for less than $5,000).
Reason 11: Memorial diamonds allow you to keep your loved one close in a way that is impossible with financially comparable options.
It is possible to take care of your loved one's ashes for prices comparable to memorial diamonds. For example, placing their cremains in a reef typically costs anywhere from $2,000 to $7,000. But, these options often mean letting go of your loved one forever (you can't go back down to the reef and retrieve the ashes). For the same price (or less), you can enjoy the sparkling brilliance of a memorial diamond, and keep it close to you, forever.
Reason 12: Memorial diamonds provide a value that exceeds that of other cremation options.
Turning ashes to diamonds is not expensive, at least compared to other options. Yet, the cremation diamonds cost you can expect to pay becomes even more affordable when you consider the value you get for your money. How cremation diamonds change people's lives goes beyond what can be expressed simply through price. These diamonds offer a way to keep the memories of a loved one close in a beautiful, and stunning, way. And, they can last for generations. When this value is considered. the prices of the diamonds themselves become almost secondary to the benefits that turning ashes to diamonds offers.