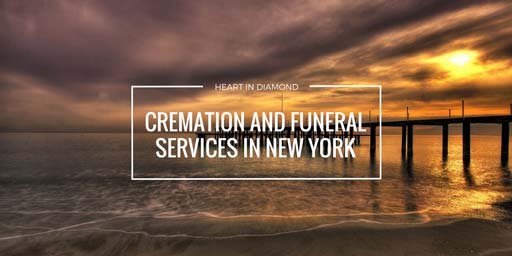 Table of contents:
Top 10 Cremation/Memorial and Funeral Service Providers in New York
How will the crematory take care of my loved one? Should I have a funeral or cremation? Is an urn the only option for the cremation keepsake? What services will be included? What options are there to choose from for a gathering?
A funeral. A memorial. A cremation service. No matter how you choose to honor the life of a deceased loved one, deciding on a funeral or cremation service is a big deal. Little Miss Funeral summed up the interactions of guests at a recent funeral she attended quite beautifully, when she said:
These people, who may have nothing in common besides for the fact that the deceased made an impact on their lives, are all gathered to support one another during a very difficult time. They are here, right now, to show support for the family and to remind us all of the most important thing in life.
Love.
It's hard to know which funeral homes, crematories or memorial centers you can trust to provide quality end of life care at a fair price you can afford.
At Heart In Diamond, we regularly work with other members of the end-of-life or death care industry. We know what to look for when selecting a funeral home or crematory in New York City. We did some searching and brought together our top recommendations for death care providers in New York. In no particular order, here is our shortlist of exceptional cremation/memorial centers and funeral homes.
1. Falvo Funeral Home
Providing families with comfort and peace of mind, Falvo Funeral Home is a welcoming place that provides an open door policy to all of the families that they work with. You can contact them 24 hours per day, seven days a week. Whether you need to plan a funeral and burial or have your loved one cremated, the caring professionals at Falvo are there to walk you through the process, to be there during your difficult time and long after.
2. Lockwood Funeral Home
Leave all your worries in the hands of the experts at Lockwood Funeral Home, who can anticipate your every need before you even recognize them. The professionals at Lockwood can help you easily plan a service that honors the memory of your loved one in a manner that is as unique as the life they lived. They have over 100 years of experience servicing the Park Slope community and are ready with information on obituaries, direct burials, urns, monuments, memorial services, family counseling and more.
3. McClellan-Gariepy Funeral Home
Funeral directors at the McClellan-Gariepy Funeral Home understand the powerful effect grief has on those left behind, and how it can leave a person feeling excessively stressed and anxious, which makes planning final arrangements particularly challenging.
With this in mind, the directors at this funeral home promise to treat each individual with dignity, compassion and respect. Their staff will assist in making arrangements that include everything from choosing the casket and flowers, to providing individualized funeral services that meet the specific needs of any family.
4. Farenga Funeral Home
Serving in Astoria and the surrounding communities since 1876, Farenga Funeral Home has been a trusted provider of funeral and cremation services for generations. This family owned and operated funeral home has built their legacy upon compassion and quality service.
Their goal is to tell the story of your loved one's life, and they will customize and design the entire service based upon your family's needs, wishes and budget. Their website also boasts that they provide more personalization services than any other funeral home in the area.
5. Brew Funeral Home
Serving the Finger Lakes Region since 1939, the caring professionals at Brew understand that every individual grieves differently. For this reason, they are committed to providing a variety of caring services during your time of loss. These include:
Cremations
Life Celebrations
Traditional Funerals
Memorial Services
Cost-Conscience Funerals
Green Funerals
Anatomical Donations
National/International Funeral Arrangement
6. Granby's Funeral Service
According to the website for Granby's Funeral Service,
We strive to make our families and visitors feel comfortable while paying respects to their lost loved ones, and we make considerable efforts to maintain our focus on the high standards expected of a place of tribute.
Granby's Funeral Service proudly serves the New York communities of the Bronx, Northeast Bronx, Manhattan, Brooklyn, Queens, Staten Island, Westchester County, Mount Vernon, New Rochelle, Yonkers, White Plains, Scarsdale, Hartsdale, Bronxville, Greenburgh, Riverdale, Wakefield, Castle Hill, Soundview, New York, Nassau, and Suffolk.
7. Blair Mazzarella Funeral Home
A funeral home based in Brooklyn, NY, the professionals at Blair-Mazzarella Funeral Home promise to be there for members of the community in their immediate time of need. Their dedicated and experienced staff have helped this funeral home maintain their reputation as one of the top funeral providers in Brooklyn for several years.
This funeral home provides more than just funeral services, they also provide pre-planning, grief support and cremation services.
8. Ballard-Durand Funeral & Cremation Services
The people behind Ballard-Durand Funeral & Cremation Services are proud of the sincerity, quality and trust that their organization's solid reputation is based on. They consider themselves the ultimate providers of funeral and cremation services, striving to supply professional and heartfelt services and to facilitate the healing process. They invite you to experience the difference for yourself.
9. Tindall Funeral Home Inc.
Family-owned and operated since 1904, Tindall Funeral Home Inc. is proud to serve Syracuse and Camillus NY. They are dedicated to helping people through their most challenging times by providing "the very best funeral & cremation services with affordable pricing options for everyone we serve". They offer both At-Need and Pre-Need pricing, which is guaranteed.
10. Rochester Cremation
The family that established Rochester Cremation did so after hearing countless families make statements such as, "I don't feel right about a fancy funeral" or "I just want something simple."
Most funeral homes only deal with cremation as a secondary offering. Rochester specializes in cremation services. Their offerings provide worry-free and affordable cremation for people, no matter where they live in the Rochester area.