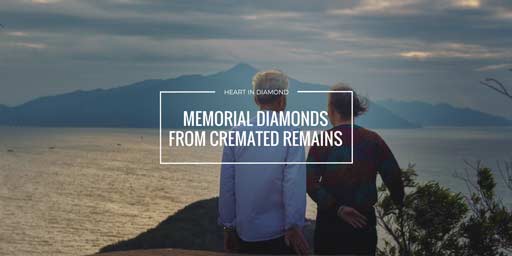 Wondering what to do with cremains? Turn them into diamonds!
While some cultures and religions (such as Hinduism) have always preferred cremation over burial, cremation is now enjoying widespread popularity. In fact, in 2015, the U.S. cremation rate of 48 percent was greater than the burial rate of about 45 percent. In some states (such as Nevada and Washington), the cremation rate exceeds 70 percent.
With a lower cost and a positive environmental impact, it makes sense that cremation is so common. And, it is likely that the practice will continue to grow, with the National Funeral Directors Association (NFDA) projecting that national cremation rates will exceed 70 percent by the year 2030.
These increasingly high rates of cremation leave families with a new question: What to do with all of the ashes? Although there are dozens of options available, one option, the creation of memorial diamonds, is becoming more common.
With anywhere from 3 to 10 pounds of ashes produced each time someone is cremated, families are faced with the question, what to do with all those cremains? Caring for a body means choosing a cemetery and burial plot. Caring for cremains, on the other hand, means sorting through literally dozens of options for memorializing a deceased loved one. Here is just a small sampling of what you can do with cremains:
You can place the ashes in an urn and bury it in a burial plot, place it in a columbarium, or inter it on your private property.
You can place the ashes in a decorative container called an urn and display the urn in your home. You do, of course, have to decide where to put the ashes.
You may choose to take the ashes to a meaningful location and scatter them there.
You can have a tattoo artist mix the ashes with ink and give you a tattoo.
You can have the ashes placed inside a piece of jewelry.
Some companies will press your loved one's ashes into a vinyl record and create a record that plays the song or songs of your choice.
You can have a small amount of ashes shot into outer space.
Some artists will mix the ashes with paint and create a portrait of your loved one.
Ashes may also be mixed into stained glass.
Some companies will incorporate ashes into the construction of a public, underwater reef.
Ashes can be mixed with cement and used to construct a monument to the deceased.
At Heart In Diamond, you can use your loved one's ashes to create a real diamond. The carbon from the ashes becomes a sparkling gem, which you can then cut and set to create a customized memorial.
As you can see, the options range from relatively well-known to pretty far-flung and unusual. Thanks to the number of choices for dealing with cremains, the choice remains a personal one. However, for creating a permanent, customized, and meaningful tribute, there are few methods more ideal than the memorial diamond.
Turning ashes to diamonds fulfills the three main goals of a memorial. As a result, the practice of creating memorial diamonds is becoming a welcome method of honoring a loved one for many families facing the question of what to do with cremains.
When deciding what to do with ashes, many people, unconsciously or not, want to accomplish three things: (1 Honor their loved one (2 Achieve a permanent tribute to the deceased and (3 get closure (or at least make the grief feel more manageable).
The choice to turn cremains into a diamond achieves all of these goals in a way that other cremains ideas do not.
Memorial diamonds honor the loved one by providing a customized way to represent their life.
When cremated remains are turned to diamonds, the resulting gem can be customized to reflect the most important qualities of the deceased. For example, a red heart-shaped diamond might represent the passionate love between a married couple, while a blue princess cut diamond might reflect a parent's eternal love for their deceased child.
Memorial diamonds last forever, allowing you to pass down the memory of your loved one through the generations.
"A diamond is forever," as the saying goes, and when you are turning ashes to cremation diamonds, that saying is a comfort. Reefs will eventually die. Tattooes will fade, and urns will break. But a diamond will withstand the test of time.
Memorial diamonds provide comfort by keeping your loved one close.
Turning cremains to diamonds does more than create a permanent tribute to a beautiful life. It can comfort you while you live your life. Having to say goodbye to a beloved friend or family member can be excruciating. But being able to wear a cremation diamond can help you to keep your loved one, and your memories, comfortingly close.
Turning cremains into diamonds also has other benefits that make them a good choice for families looking to remember their loved one in a meaningful and concrete way.
If you are looking for things to do with your cremated ashes, consider a memorial diamond from Heart In Diamond. Here are a few other reasons to consider a memorial diamond from your loved one's ashes.
These beautiful gems are affordable (often less expensive than a traditional burial).

Memorial diamonds do not have to use all of the ashes from your loved one's cremation. As such, you can reserve some of the ashes for other uses if you wish.

Most importantly, memorial diamonds give you a permanent and stunning way to remember your loved one forever.