8 unique cremation jewelry pieces to spark your inspiration
24 October 2019 /
Looking for one-of-a-kind cremation jewelry? For centuries, people have been honoring the memory of their loved ones who have passed away with gorgeous memorial jewelry. During the old times, people often used a sample of hair inside of mourning jewelry. Modern technology has invented new ways of celebrating the life of a loved one, such as having a diamond grown from the cremated ashes of the departed.
Do you want to look at some of the most extraordinary examples of cremation jewelry? Keep reading to see eight pieces that are truly original and different from the rest of the memorial jewelry you see on the scene.
1. Extraordinary antique memorial pendant with blonde hair
There is certainly a lot to love when it comes to antique cremation jewelry. This rare piece of memorial jewelry features a stunning black frame around a display area which features lovely woven locks of blonde hair. Nowadays, you can actually send in the hair of a loved one who has passed away and have it transformed into an authentic diamond which can be set in a variety of jewelry.
2. Exclusive cremation jewelry full moon necklace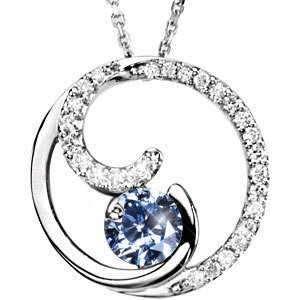 This incredibly unique piece of cremation jewelry is truly remarkable. While it's a very uncommon design for a cremation diamond necklace, this full-moon embellished pendant is breathtaking. At the very center of this different design, you will find a special cremation diamond, which has been created from the cremated ashes of a loved one. While this pendant is shown featuring a blue diamond, you can also have cremation diamonds made that are white (clear), yellow-orange, green-yellow, or ruby red. This piece pictured is set in 14K white gold.
3. Special Victorian hair woven pendant mourning jewelry
After Prince Albert died, Queen Victoria was a true pioneer in the world of mourning jewelry. Not only did she wear black for the rest of her life, she also wore a signature mourning ring to honor her late husband. Her example created a trend and the Victoria era has left behind thousands of artifacts of gorgeous memorial jewelry that was worn to memorialize a loved one who passed away. This particular piece is a very intricate and unique woven cremation pendant.
4. Rare snowflake cremation diamond earrings with orange gems
Have you ever seen earrings as unique as these? At first glance, you probably never would have guessed that these are cremation earrings. The yellow-orange diamonds that are set in these snowflake 8-prong yellow gold stud earrings are actually cremation diamonds that have been made from the ashes of a loved one. While they are shaped like snowflakes, they also resemble suns, especially with the yellow gold and the yellow-orange diamonds.
5. Classic Victorian mourning ring with hair
Mourning jewelry from the Victorian era is often very elaborate and typically includes the name and the dates of the person engraved into the ring or other piece of jewelry. Hair from the deceased was often used as it is here in this unusual 18 carat gold mourning ring from that era.
6. Old English memorial ring that symbolizes two siblings
This stunning and unusual memorial ring was created to celebrate the memory of two siblings whose names are engraved in the gold inscriptions on the white enamel. This extraordinary design features two halves that mirror one another and are held together by sockets and pins. There are pearl borders that surround the bezel which is divided into two separate triangular compartments. Each of these compartments contain a small piece of the siblings' hair, which makes this unique piece of mourning jewelry a true masterpiece.
7. Sample box of unique memorial jewelry with hair
This red leather sample case opens up to reveal six different reserves. Each one is a rare example of intricate rolled hairwork. In addition to the extraordinary work of art created by the rolled hair, there are also seed pearls within the pieces. People have kept locks of hair from their loved ones who have passed away since the renaissance period, but it wasn't until the early nineteenth century that this type of memorial jewelry became popular.
8. Rare antique halo cremation ring
This antique halo ring that features 18K white gold is truly a different kind of style you don't normally see. Set in the middle of this stunning ring setting is a green-yellow cremation diamond that was created from the ashes or remains of a loved one who passed away. This elegant and regal design is truly fit for someone who wants to remember their loved one in an extravagant way that's sure to draw attention.
Shop for unique cremation jewelry online from Heart in Diamond
Are you ready to start exploring different or unusual cremation jewelry for yourself? At Heart in Diamond, we grow authentic diamonds in the laboratory that are made from a sample of hair or cremated ashes from a loved one. There is truly not a more unique way to celebrate the life and memories of the departed than by choosing an extraordinary jewelry setting from our selection of more than 600 options.