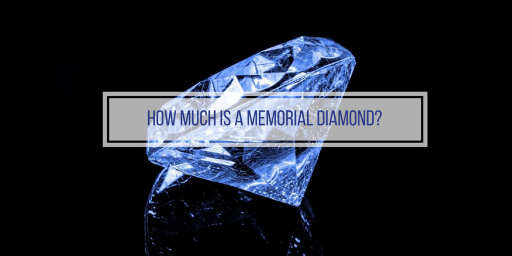 Last revised: August 2, 2019
Memorial Diamond Costs Make It Possible for You to Commemorate a Special Event on Almost Any Budget
Memorial diamonds made from hair provide a beautiful and unique way to commemorate a special event. From weddings to anniversaries to milestone birthdays, these events are times you want to keep in your memory forever. From combining the couple's hair in wedding rings, to mingling children's hair for anniversary bands, memorial diamonds preserve precious remembrances in tangible form.
So what keeps more people from taking advantage of memorial diamonds? Often, it is a misconception about how much it will cost to create a remembrance diamond. Diamonds are often perceived as being expensive, and they can be. Depending upon the clarity and color, for example, an excellent 1-carat diamond can cost as much as $20,000. Even average 1-carat diamonds can cost more than $7,000. That can feel like a lot of money to spend on a gemstone, especially if your budget is small.
Memorial diamonds are different from natural diamonds, however, in that they cost about 30 percent less than do natural diamonds.
What many people fail to realize, however, is that memorial diamonds cost, on average, 30 percent less than natural diamonds, while retaining all of the properties of natural diamonds and exceeding natural diamonds in significance.
There are a few reasons for this lower cost. First, natural diamonds require much more effort to locate. For example, they require the removal of tons of earth and significant labor to locate even 1 gem-worthy diamond. Lab grown diamonds such as remembrance diamonds, on the other hand, can be made with significantly less effort and environmental impact.
Second, diamonds that are very rare in nature can be produced relatively easily in the lab. For example, a 1-carat diamond is found only once in every million natural diamonds, but can be grown in the lab as long as there is a sufficient amount of carbon provided. Similarly, colored diamonds, which are very rare in nature, can be produced as memorial diamonds for a lower price.
When looking to create remembrance diamonds, there are also steps you can take to keep the cost of your memorial diamond within your budget. The first of these steps is to use the company that guarantees the lowest prices in the industry.
You can also keep your memorial diamond cost down by following a few steps. The first is to use our services. Here at Heart In Diamond, we own our production facilities, meaning that we do not have to pay to send out your carbon to have it processed. As a result, we can offer the guaranteed lowest prices for memorial diamonds in the industry. If you want a beautiful remembrance diamond on a budget, we are the ones you should ask.
The second step to keeping your memorial diamond cost down is to use our wide variety of cuts, colors, sizes, and jewelry settings to choose a diamond that can serve both as a beautiful memorial and as an affordable part of your budget.
When creating your commemorative diamond, you can choose from among 5 colors, 9 sizes, and almost any cut to ensure you receive the gemstone that will best serve as a memorial for your special event.
Each of these memorial diamond types comes with its own price, depending upon the type of diamond you select. For example, a 1-carat princess cut yellow diamond will be a different price from a 1-carat round cut blue diamond, or a .5 carat cushion cut white diamond. Some of our gems start at just $750.
In addition, you can choose from more than 500 jewelry settings (at various price points) into which you can set your commemorative diamond. As a result, you can build a beautiful memorial diamond for remembering your special occasion regardless of your budget.
The third step to keeping your memorial diamond cost down is to use our payment plan to lower your monthly cost to an affordable amount.
Finally, you can keep your costs down by using our payment plan to lower your monthly cost to an affordable amount. When you purchase a diamond that is larger than .03 carats, and put 25 percent down, you can pay the remaining balance in 12 or 24 monthly payments interest free. For a diamond that is $1,995, for example, you can pay just $62 a month on our payment plan.
If you feel like you could benefit from a memorial diamond, do not allow cost to deter you. With the naturally lower cost of memorial diamonds, combined with using the right company, the right memorial diamond type, and the right payment plan, you can enjoy a gorgeous and meaningful diamond at a cost you can afford.